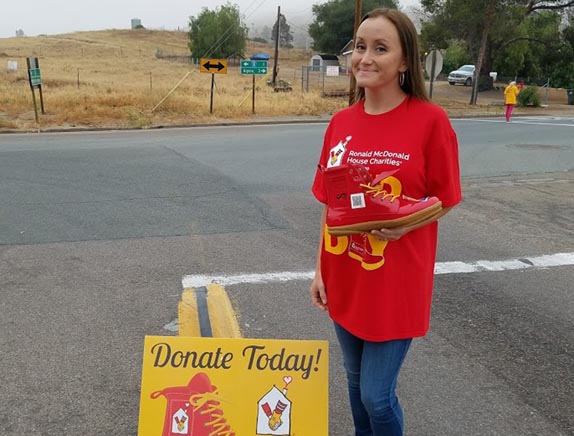 Kiwanis members are pulling out their big, red shoes and dusting them off for the annual Red Shoe day donation drive to benefit Ronald McDonald House Charities of San Diego.
As in years past, Kiwanians and Key Club members will be wearing bright, yellow shirts to draw attention to themselves as they stand on street corners throughout Alpine from 6:30 to 9:30 a.m. on June 20 to collect do¬nations from people as they go about their morning drive.
All money collected will be turned over to Ronald McDonald House, which provides a place to stay, meals, and the comforts of a home-away-from-home so that families can be near an injured or critically ill child while they are being treated at a hospital here in San Diego.
Kiwanis of Alpine, with 138 members, is the second largest club in this district, comprised of California, Nevada and Hawaii. This year alone, Kiwanis has been involved with Kite Day, Vintage Alpine, the Wall of Honor, regular blood drives, multiple fund¬raisers to benefit several local agencies including Alpine Fire Department, and monthly events to benefit local children. However, the Red Shoe event is unique for local Kiwanis of Alpine in that it extends throughout San Diego to include over 1,500 volunteers in total with Alpine included in that number.
Representatives of Ronald McDonald House Charities wrote in an email they were "thankful for the continued generosity of Kiwanis Club of Alpine on Red Shoe Day and throughout the year… As a result of dedicated community members and groups like Kiwanis Club, we are able to provide a home-away-from-home for thousands of family members every year."
Past Kiwanis President Ray Sopfe said that one of the biggest challenges of recent years on Red Shoe day is repeatedly hearing from people that they would gladly give a donation but have no cash in their car. His hope is that by getting the word out early about the upcoming event, potential donors will be forewarned and forearmed with cash in hand so that Al¬pine Kiwanis can once again hit the mark of top donor.
"The Kiwanis Club of Alpine is proud to say that we collect more donations on the street corners of Alpine than any other organization in San Diego other than Wells Fargo Bank," Sopfe said.
Kiwanis members will be at the corner of Victoria Drive and Alpine Boulevard, Tavern Road and Alpine Boulevard, and several other locations along main thoroughfares through town.