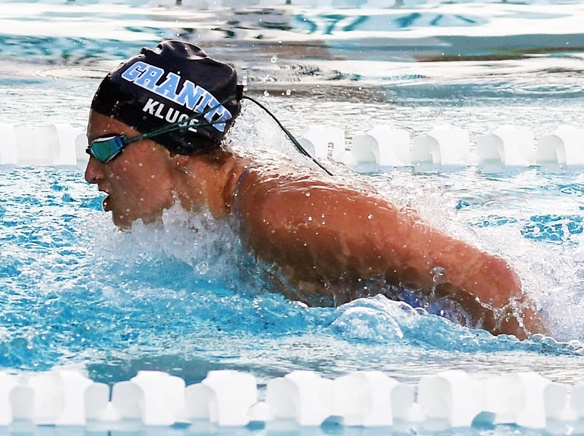 A big reason the Granite Hills High School girls swim team is un­defeated in three Grossmont Hills League dual meets is the presence of junior butterfly specialist Erin Kluge in the water.
Kluge is undefeated in individual events and relays so far this season and helped the Eagles set a new school record in the 200-yard in­dividual medley in a March 5 dual meet against Grossmont High School.
The new record time is 1:52.37 with freshman Brooke McCoy swimming the backstroke leg, senior Rachel Sapper swimming breaststroke, Kluge at butterfly and sophomore Izzy Cox with the anchor freestyle leg.
Kluge won all four of her events in a 130-56 dual meet victory against visiting Valhalla on March 12, timing 2:11.17 in the 200 indi­vidual medley and 59.17 in the100 butterfly while helping her team­mates win the medley relay in 1:54.34 and the 200 freestyle relay in 1:46.46.
Kluge's teammates in the med­ley relay included McCoy, Sapper and Cox and Delaney Fry, Aidyn Gaeir and Cox in the 4×50 freestyle relay.
Granite Hills coach Cathy Elgas is optimistic that Kluge can remain undefeated on the season.
"I don't think anyone can beat Erin in league in any event or the relays, but we like to take one meet at a time," Elgas said.
The goal for the medley relay unit is to dip under 1:50.
"They will beat (the school re­cord) by a ton when they are rested and have tech suits on," Elgas said.
Kluge said her goal is to advance to the Olympic Trials and be part of a Division I college swim team.
"I would make a great candidate because I always give my 100 per­cent at practice and go above and beyond with extra conditioning," Kluge stated on her Next College Student Athlete recruiting profile. "I have broken four school records and one league record so far and am on the road to break more. I also have a 4.5 grade-point average and will continue to maintain good grades."
Besides the school record set in the medley relay at the March 5 dual meet against the Foothill­ers, Kluge also swam to winning times in the IM (2:11.12), butter­fly (58.48) and 400 freestyle relay (3:50.85).
Granite Hills recorded first-place finishes in 10 of the 11 swimming events contested in the girls meet against neighborhood rival Valhal­la, including double individual first-place finishes by Chloe Morgan in the 200 freestyle (2:08.14) and 500 freestyle (5:33.76) and Cox in the 50 freestyle sprint (25.49) and 100 freestyle (56.67). Sapper won the 100 breaststroke (1:09.34).
Besides the medley and 200 free­style relays, Granite Hills also won the 400 freestyle relay (4:02.34) with Morgan, Korinne McCarty, Sapper and Delaney Fry each al­ternating swims.
Valhalla's lone win in the girls meet came courtesy of Tess For­stot in the 100 backstroke (1:04.62).
SOARING EAGLES
Granite Hills swept Valhalla in the teams' March 12 encounter by capping the boys meet with a hotly contested 106-80 win.
The Eagles captured just four first-place finishes but used their depth to top the Norsemen, who came up with seven first-place touches.
Aidan Keane recorded an indi­vidual double for Granite Hills in winning the in the IM (2:04.92) and backstroke (57.77) while Braden Felio won the 100 freestyle (50.80).
The quartet of Riley Thompson, Andrew Stinnett, Cavan Cox and Vaughan Clark won the 200 free­style relay in 1:37.11 for the Eagles' other event victory.
The Norsemen won four of the first five events in an initial power surge.
"Granite Hills is our biggest rival," Valhalla coach Steena Har­riman said. "It's the most highly anticipated meet for the kids. A lot of the kids have teammates from club on the other side. Many also went to middle school together. It's just friendly competition."
Scoring individual doubles for the Norsemen were Eli Mohr in the 200 freestyle (1:52.78) and 500 freestyle (5:02.16) and Jack Forstot in the 50 freestyle (22.85) and 100 butterfly (56.89) while Alexander Golu won the 100 breaststroke (1:05.53).
The Norsemen captured first-place touches in the medley relay (1:44.13) with Mohr, Golu, Forstot and Tate Clapham each swimming legs and the meet-concluding 400 freestyle relay (3:28.23) with Mohr, Clapham, Forstot and Golu exchanging swims.