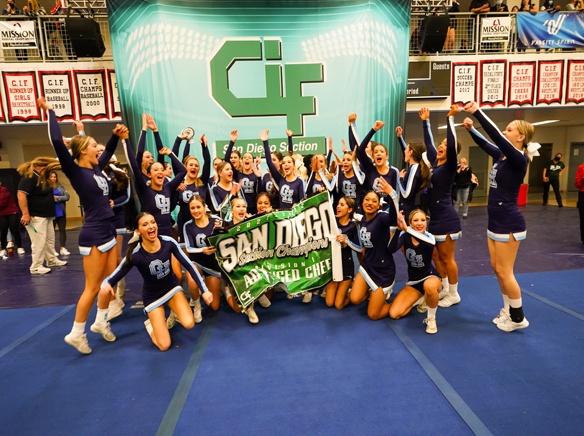 The San Diego Section held its competitive cheerleading competition Dec. 4 at Montgomery High School.
The awards list included advanced, intermediate, novice, coed and non-tumbling categories.
Granite Hills High School captured the Large Schools Division I championship. The section title built on the team's Division I championship in 2019-20.
The Lady Eagles claimed the Large School Division championship at the inaugural CIF finals in 2018.
West Hills High School captured top honors in this year's Coed Division III Novice field.
San Diego Section 2021 Cheer Champions
SMALL – DIVISION I NOVICE Westview High School
SMALL – DIVISION 2 INTERMEDIATE Del Norte High School
LARGE – DIVISION 1 ADVANCED Granite Hills High School
LARGE – DIVISION 2 INTERMEDIATE Eastlake High School
LARGE – DIVISION 3 NOVICE Academy of Our Lady of Peace
COED – DIVISION 1 ADVANCED Southwest (El Centro) High School
COED – DIVISION 3 NOVICE West Hills High School
COED- NON TUMBLING Sweetwater High School
LARGE- NON TUMBLING Mira Mesa High School
SMALL- NON-TUMBLING Montgomery High School
GAME DAY – NON-TUMBLING El Camino High School