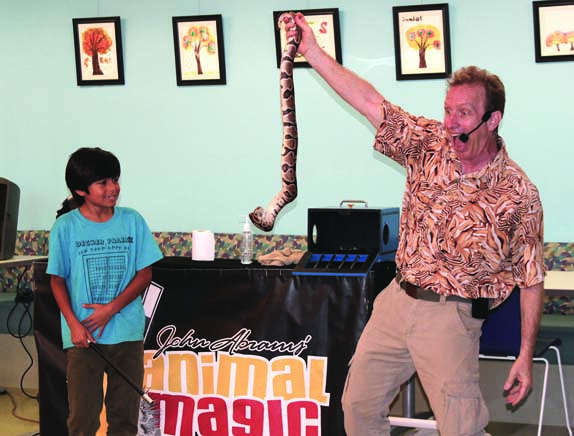 Magician John Abrams entertains crowds all over California, but recently he chose to perform magic tricks involving exotic animals for young children seated criss-cross on the carpeted floor of the children's section in the Alpine library.
Librarian Heather Pisani-Kristl booked Abrams to kick off the summer reading pro¬gram at the library June 29.
"I frequently choose programs with animals because I went to an audubon camp as a child and feel that it helped with my adult understanding of animals. Pro¬grams like this provide foundational experiences for children," Pisani-Kristl said.
Abrams began the show by teaching children the chant that he repeated throughout the event.
"I'm gonna check me out some books!… I'm gonna check me out some books!"
Using repetition as a teaching tool, Abrams encouraged all of the children to pursue the summer reading program before jumping in with his first trick.
"Now that I know you're all going to visit my friend Miss Heather and check out some books, I thought I'd start today with a trick that was taught to me by the wild toilet paper eaters of Borneo," Abrams said.
After watching Abrams cram several pieces of toilet paper into his mouth, the children laughed when he pulled out a long ribbon instead, but the true reveal was when a small, white bird flew out instead.
Abrams proceeded to entertain the children with traditional magic tricks that had the added layer of including exotic animals in each reveal, such as having child volunteers season his alleged lunch, only to have a chinchilla pop up in the saucepan.
With each trick, Abrams took time to teach the crowd about the animal involved, telling the children that the chinchilla cleans himself by rolling in dirt.
To close out the show, Abrams again encouraged the children to check out books for the summer reading program, and explained that there are books available on all of the exotic animals that he included in the show so that even if someone cannot go to see a Russian tortoise or a Chilean chinchilla in person, they are able to learn about them at the library.
The children scattered throughout the library, talking about the show and which animals they liked best of all.
"The hedgehog was adorable," Cole Klingshirn, 11, said.
His mother, Sarah Klingshirn said that he was excited from the minute he heard about the show.
"He loves animals and he loves magic so when we found out about the show, he begged me to come," Sarah Klingshirn said.
The Animal Magic show was the first in a series of free events being held this summer at the Alpine library. Upcoming summer programming includes events like using LEDs and simple circuits, cheesemaking and beekeeping for adults, and other children's events such as the mermaids and friends parade.
The Summer Reading pro¬gram at the Alpine library runs through Aug. 31. Participants who read 10 books or 10 hours can win prizes.
For reading recommendations, Pisani-Kristl recommends visiting the American Library Association website at: http://www.ala.org/alsc/ where book lists can be found for different age groups and reading levels.