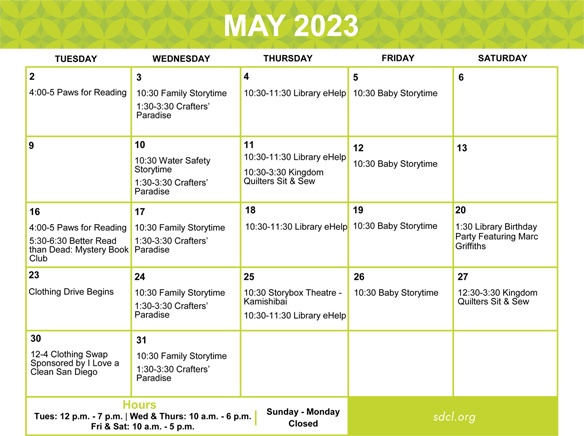 June is graduation month, and I'd like to take this opportunity to tell you about a fantastic free program called Library High School. Anyone 19 or older can earn an accredited high school diploma through the library. It is never too late to graduate! Go to libraryhighschool. org to watch a video and get more information.
Our Summer Learning Program for all ages starts today. Pick up a log, complete fun activities throughout the summer and win prizes!
On Saturday, June 10 at 11 a.m. Carlette Anderson, Director of Alpine's Community Wildlife Habitat Program, will present Monarchs and Milkweeds for kids. Learn fun facts and gain an appreciation for these incredible insects.
June will be a musical month at the library, starting with Meet the Instruments for kids on Wednesday, June 14 at 10:30 a.m. The Fiddle Girl, Celia Lawley, will sing and demonstrate different musical styles on violin, mandolin, accordion, tin flute, guitar, and banjo.
On Saturday, June 17 at 3 p.m., ODDVoX Duo will kick off our Summer Concert Series. Guitarist/Vocalist, Jimmy Lewis, and Drummer/Vocalist, Rick Favale, provide a unique acoustic, yet powerful, sound and perform songs by legendary artists such as Led Zeppelin, Ray Charles, The Rolling Stones, The Beatles, Otis Redding, Bob Dylan, Neil Diamond , Cream and more! Summer concerts will continue on the third Saturdays in July and August. Mark your calendars!
If you've been "Drivin' in My Car" at storytime you won't want to miss the opportunity to meet Ralph Covert in person on Tuesday, June 27 at 4 p.m.! This GRAMMY-nominated and Parents' Choice Awarded creator of Ralph's World engages all-ages with his fun and silly songs.
These music programs are possible thanks to the generous financial support of the Alpine Library Friends Association.
Open the attached events calendar to see more of what is happening in June or go to sdcl. org/alpine.
See you at the library!
Librarian II Susan del Castillo is Alpine Branch Library Manager. Reprinted with permission of Alpine Library.