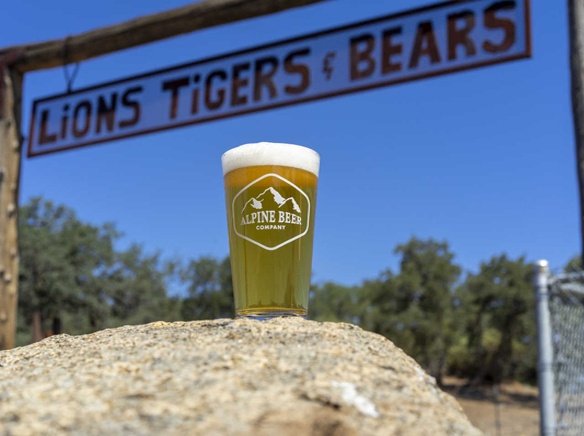 Alpine Beer Company donated $2 from every 'Oh my!' lager sold throughout the month of August to Lions, Tigers and Bears animal rescue and sanctuary.
Vice President of Operations Tom Tweedy said the Alpine Beer Company Outpost poured about 500 Oh My! Beers throughout the month, ultimately raising about $1,000 for the animal sanctuary.
"We tried to talk it up a little bit, it was such a good program. We helped raise awareness and it was super cool to support the sanctuary," Tweedy said.
The back story, he said, was that the brew company had been trying to find a good outlet to support a local non-profit, "trying to figure out our footprint in Alpine" and heard about some of the stories from Lions, Tigers and Bears.
In 2021, the sanctuary rescued five big cats, a bobcat and a goat, all of whom will live out their lives at the sanctuary. In addition, the sanctuary is home to more than 65 animal residents, including lions, tigers, American and Himalayan black bears, grizzly bears, bobcats, mountain lions, servals, leopards, llamas, horses, goats, sheep, chickens, peacocks, and a macaw.
The non-profit is a staunch advocate for ending illegal animal trafficking and overbreeding, as well as pay-to-play activities where baby animals are used for photo opportunities and for-profit events then discarded once they are no longer usable.
"It is super important for me personally because some of these guys get a baby tiger, of course they grow and then they're in over their heads.
Lions, Tigers and Bears sees the ongoing problem and they're advocating for solutions, and I can get behind that," Tweedy said. Lions, Tigers and Bears Founder and Director Bobbi Brink said the partnership and support was priceless and the funds raised will go toward general expenses at the non-profit as they begin rolling out fall and winter programming.
"We're planning the Spooky Campover with smores and singing and a pumpkin carving contest. We carve them at night then give them to the animals to play with in the morning. Right now we're working on finding a pumpkin and a s'mores sponsor for about 150 people," Brink said.
Following that, she said, they'll start on the Christmas party and are already looking for sponsors to buy gifts for the animals.
"We get a Christmas tree for each animal. They love to rub on the trees and run around all of them. We also wrap about 300 boxes for them to interact with and we're always looking for volunteers for that," Brink said.
Meanwhile, Tweedy said Alpine Beer Company is looking at their next partnership because the one with Lions, Tigers and Bears was such a success.