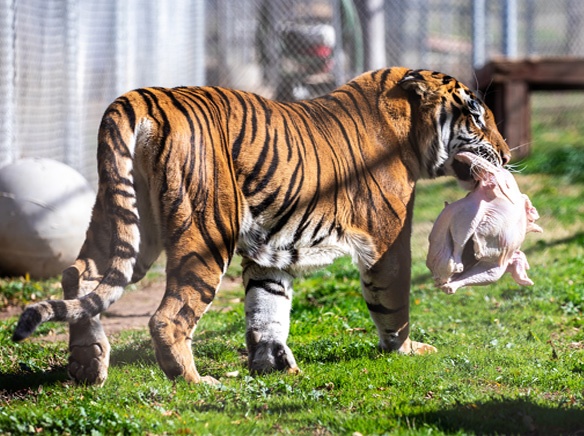 With new additions to the sanctuary, some new rescued animals will be spending their first Thanksgiving Turkey Bash at Lions Tigers & Bears on Friday, Nov. 26 at 10 a.m. Guests will be able to view the lions, tigers and other rescued cats gobble down their Thanksgiving turkeys, as the bears ravish in pumpkins filled with their favorite treats. And for some rescued newcomers to the sanctuary, this will be their first Thanksgiving Turkey Bash.
"This is one of the community's favorite events and one of the animals' too. There is nothing better than watching the tigers indulge in a turkey and bears smash stuffed pumpkins open. It is times like these when we are thankful to have support to help us maintain sanctuary and rescue abused and abandoned animals like Kallie," said Lions Tigers & Bears Founder and Director Bobbi Brink.
Brink said since last Thanksgiving, there has been several new additions to the sanctuary. Guest will be able to see Kallie, a tiger rescued in June from a drive-thru zoo in Oklahoma that was shut down in 2008 and lived in a ramshackle cage for years until rescued.
"This past year we got a bobcat, Atlas, from Montana, Rocky the grizzly bear. We did a rescue in Oklahoma, with two lions, two tigers, and we brought one of the tigers Kallie here. We took the others to the Oakland zoo. Then Eddie the jaguar, then we brought in Susie and Sally from Maryland, two Asiatic/Himalayan Black Bears, which are the moon bears, and three mini horses and a llama," she said. "Everybody is doing really well. The new bears are still in quarantine, the mini horses and the llama are waiting for the vet for one more set of vaccines, and the llama and one of the mini horses need to be gelded. So, they will be out of quarantine by the Christmas with the Animals."
Ticket prices, with all proceeds going to the nonprofit's animal care and upkeep, are members $30 for adults and $15 for kids, and nonmembers $60 for adults and $35 for kids.
For more information visit www.lionstigersandbears.org/ our-events/thanksgiving-turkey- bash