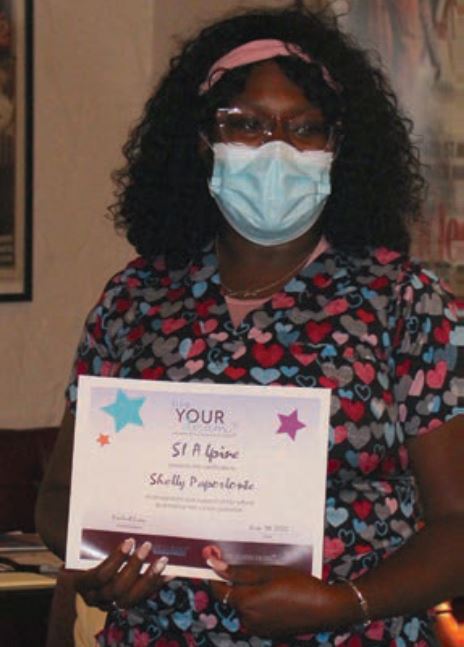 Soroptimists International of Alpine Secretary Patty Tweed described the Live Your Dream awards as helping women who are head of household improve their family's lives through education. However, Tweed, fellow Soroptimist Rachell Lara and both honorees at the June 7 presentation agreed: the greatest benefit to the program is the fellowship and support behind the award.
"When you empower women, whole families rise up. The grant is a benefit but it is the support that we hear about from women, the belief in their determination," Lara said.
Live Your Dream grant recipient Lydia Sullivan-Murillo said she began college as an adult after a health scare forced her to "look in the mirror and realize I didn't like what I saw" then begin making nutritional changes.
After losing 75 pounds, Sullivan- Murillo decided she was going to attend college and become a nutritionist. Her marriage ended and she fell into homelessness with her three children but still managed to pull a semester with good grades at San Diego State University.
The single mother found a new home in rural Jamul with "like almost no internet" and her education appeared to be on track just before the unexpected COVID-19 pandemic hit and classes shifted online. Remembering a saying from her grandma, the adult student decided she needed to act like a strainer and, if one hole clogged up, find another one to slide through out of the thousands of exit points to success.
"If I couldn't afford internet, at least I could find a way to afford McDonald's to use their wi-fi. You know, I recently asked a professor for a letter of recommendation and they said they thought I would be one of the first to drop out of class during COVID. However, they told me 'I would see you in Zoom and you'd be at Starbucks or McDonald's with your three kids behind you' and I realized you weren't going to quit," Sullivan- Murillo said.
She paused, looking over at her three children. All three were smiling as she summed up four years of school in the space of ten minutes.
"By December 2023, I'll have my B.A. and then it's on to my Master's. Do I really want this? Yes. Yes, I really want this," Sullivan-Murillo said.
Shelly Paporlonte was also a recipient of the Live Your Dream grant, a former Navy Corpsman who began nursing school right as the pandemic hit. It "wasn't the easiest situation," Paporlonte said in an amused tone.
"So, I'm 28 and they don't have scholarships for people my age. The grants and scholarships all go to high school students," Paporlonte said.
Lara said the Soroptimists see the determination and resilience of women but "there's not a lot of grants for adult, mature women" and the Live Your Dream grant is specifically geared toward women who might not otherwise receive any financial help for higher education.
"The award money is deliberately non-school specific so it can be used for practical items like tires to drive to school," Tweed said.