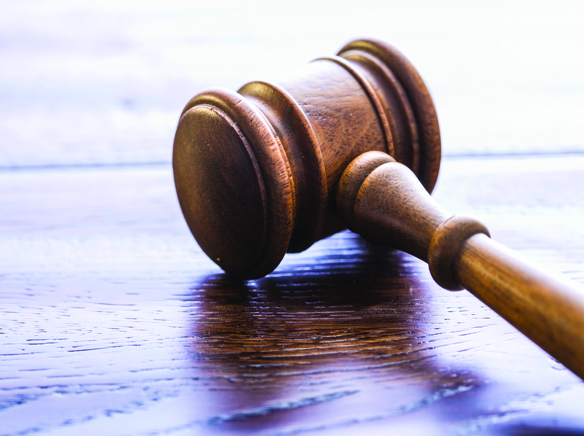 A former server at the Viejas Casino in Alpine was ordered March 1 to stand tri­al for second-degree murder and gross vehicular man­slaughter while intoxicated.
After a three-day prelimi­nary hearing, San Diego Su­perior Court Judge Robert O'Neill held Lauren Ashley Freeman, 23, of Santee, to answer for all charges in the Feb. 26, 2018, death of Justin Callahan, 35.
"When someone drives the wrong way, it is not an accident," said O'Neill.
Freeman is alleged to have driven the wrong way on a transition ramp between Interstate 8 and I-5 around 1:55 a.m. and collided head-on with Callahan's Volkswa­gen Jetta.
Initially, California High­way Patrol officers believed it was Callahan who was driving the wrong way, but a re-examination of the evi­dence caused the agency to reverse its findings. She was arrested Nov. 2.
Deputy District Attorney Laura Evans said Freeman was driving at a blood/al­cohol level of .24, which is three times the limit for felony drunk driving.
Evans said Freeman showed "wanton disregard for life" by drinking so heav­ily and driving in that condi­tion. Freeman disregarded four signs on the on-ramp that showed she was driving the wrong way, said Evans.
The prosecutor put on testimony about Freeman's work at Viejas Casino be­cause she received alcohol service training there.
CHP officer Brad Clink­scales testified Freeman scored 100% on an alcohol sales exam at Viejas. A re­tired San Diego Police lieu­tenant who taught the class at Viejas also testified.
Her attorney, Philip Sha­piro, argued that his client "did not know" that she could be charged with mur­der in a traffic fatality.
"It does not fit the rules the legislature set up," said Shapiro, who added that charging murder in a traf­fic fatality is "bending the rules."
Freeman was also charged with driving while intoxi­cated and causing great bodily injury to her pas­senger, Renee Taddeo, of El Cajon, who suffered a broken foot, clavicle, and other in­juries.
"She knew…what she was doing was dangerous," said Evans.
She also had a boyfriend who got a DUI and lost his license, so Freeman had to drive him places, she said.
Evans also cited a text message to Freeman from her mother that said "care­ful with drink and drive" on her cellphone a month be­fore the crash.
Clinkscales also testified Freeman ran up a large bar tab that night and she took a "selfie" while there, which was found on her phone. He said there were many photos on her phone that showed her drinking.
Clinkscales said Freeman was at an "Every 15 Minutes" presentation at her high school in East County that taught students about the dangers of drinking and driving.
Her attorney argued the high school presentation oc­curred many years ago when she was 16 years old.
Callahan's family, who heard all 14 witnesses in the hearing, had pushed for the CHP to re-investigate the case after ini­tially concluding it was Calla­han who drove the wrong way.
Callahan was driving to his Ocean Beach home from work after he clocked out at 1:30 a.m., his family said.
"The cars collided and split apart," said motorist Robert Balboa. "It was pretty much head on. There was a lot of de­bris."
A defense witness, Thomas Brookhouzen, said it appeared to him that Callahan's vehicle was going the wrong way.
Freeman's family also at­tended the hearing.
She has pleaded not guilty. A trial date will be set on March 14. She remains in the Las Colinas Women's Detention Facil­ity on $750,000 bail.