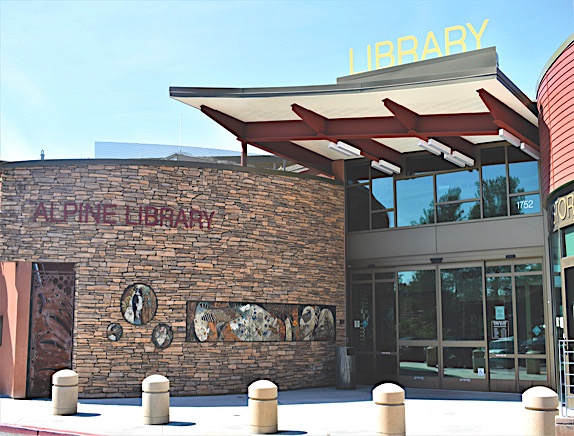 The weather is heating up and it is time to dig out those swimsuits! On Wednesday, May 10 at 10:30 a.m. Lorrie Lynn, from Safe Kids San Diego, an affiliate of Rady Children's Hospital, will be reading Josh the Otter Learns to Float, at a special water safety storytime. Bring your kids to learn about this important topic in a fun way.
Our beautiful library turns seven this month and we are celebrating! The party is on Saturday, May 20 from 1:30 – 3 p.m. We will have a performance by award-winning ventriloquist Marc Griffiths at 2:00. We will also have Pin the Tail on the Donkey, a special birthday I Spy, and cake provided by the Alpine Library Friends Association. You will not want to miss it!
Are you doing any spring-cleaning? Bring your unwanted clothes and accessories to the library and leave with a fresh new-to-you wardrobe! On Tuesday, May 30 from noon – 4 p.m. we are hosting a clothing swap sponsored by I Love a Clean San Diego. Items must be in good condition without loose seams, tears, or stains, and each person can donate up to five items. A clothing drive will start on May 23, in case you want to bring items in early. You do not have to bring in items in order to take some.
SDCL has a new app called PressReader that allows you to read thousands of newspapers and magazines from around the world in more than 60 languages. Start here to download it: https://www.sdcl.org/resource/pressreader/
See the events calendar to see more of what is happening in May or click here to view our online events calendar. See you at the library!
Librarian II Susan del Castillo is Alpine Branch Library Manager. Reprinted with permission of Alpine Library.