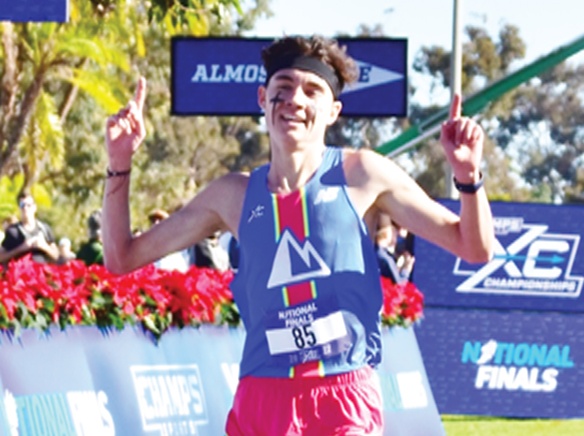 Liberty Charter senior Micah Sanchez appears to be picking up right where he left off following a star-studded fall cross country campaign that included CIF San Diego Section Division V and California state championship meet individual championships and an appearance in the chic Champs Nationals Cross Country Championship event at Morley Field in Balboa Park.
Sanchez, who is bound for Northern Arizona University, remains a leader during the spring track and field season after posting a first-place finish in the 3,200-meter run at the Mt. Carmel Track and Field Distance Carnival on March 4 and a second- place finish in the distance at the elite Arcadia Invitational on March 18. He completed sweeps in both the 800- and 1,600-meter runs at the Frontier Conference Cluster Meet 1, on March 23 and a 15th place showing at the APU Meet of Champions on March 25. In other words, it's been a whirlwind start to the 2023 track season.
Sanchez, who won last fall's state championship race by 11 seconds, tops the early leaderboard in the section in 3,200 with his 9:09.17 from the APU Meet of Champions at Azusa Pacific University to rank three seconds ahead of Pt. Loma senior Manuel Correia (9:12.79). Sanchez opened the season by running 9:15.84 in the 3200 at the Mt. Carmel distance meet, finishing nearly 15 seconds ahead of El Camino junior Omar Reyes (9:30.17) in the eight-lap event that attracted 67 entrants.
The Alpine harrier was clearly the class of the field that also included St. Augustine senior Jimmy Markowicz (third, 9:32.00), Otay Ranch senior Jacob Juden (9:33.11), Westview junior Adrian Welton (9:37.61) and Francis Parker junior York Bourgeois (9:42.32).
Sanchez clipped Bourgeois by eight seconds to win last fall's Division V section title and finished 26 seconds ahead of Bourgeois at the state meet.
Sanchez followed with a 9:15.27 at the Arcadia Invitational, an early season predictor for success at the state level, while finishing 11 seconds behind winner Joshua Bell (9:04.08), a junior from Templeton.
Sanchez trimmed San Luis Obispo senior Quinn White (9:15.82) by a half-second to place runner-up in the 26-deep invitational race. Liberty Charter senior Gabriel Gastelum also was entered in the invitational field, placing 26th in 10:27.86. Gastelum had finished 13th at the preceding Mt. Carmel meet behind Monte Vista senior Steven Valadez (seventh, 9:50.42) and Santana senior Connor Cheary (ninth, 9:54.44). Gastelum edged Grossmont senior Mason Coyle (14th, 10:06.63) and Steele Canyon sophomore Micah Senn (10:07.77) in a matchup of East County runners. Sanchez led a parade of four Liberty Charter runners across the finish line in the 1,600 distance at the Frontier Conference cluster race at O'Farrell Charter High School.
Sanchez timed 4:19.62. Trailing were junior teammate Ivan Guzman (second, 4:37.09), sophomore Aidan Burr (third, 4:52.31) and junior Samuel Morales (fourth, 4:54.54). The quartet finished ahead of a pair of High Tech High Chula Vista runners: seniors Aidan Stirk (fifth, 5:04.55) and Adam Ramirez (sixth, 5:06.95). Liberty Charter freshman Caleb Acosta was eighth in 5:11.20 as the Lions glutted the finish line with five runners among the top eight finishers in the 27-deep field.
Sanchez (2:01.88) and junior teammate Joel Bray (2:04.56) finished one-two in the 800 distance while Guzman (fourth, 2:13.94) and Morales (fifth, 2:15.76) made it four Liberty Charter finishers in the top five in the 32-deep field. Only High Tech High North County sophomore Maxwell Gibbons (third, 2:09.19) broke up the pride of Lions in the race.
Sanchez and La Costa Canyon senior Jacob Niednagel were the only two section runners to race in the APU Meet of Champions invitational field. Niednagel (9:15.50) placed 19th in the field of 25 runners, finishing six seconds behind Sanchez.
Clovis East junior Carter Sprading topped the fast field with a time of 8:51.62, a clocking accustomed to parade around the oval at the state meet. Fall back
Sanchez won the Division V section title with a time of 15:08.6 on the 2.96-mile Morley Field course on Nov. 12 to advance to the state championship meet Nov. 26 in Fresno. He won the Division V title there as well with a time of 15:13.6 in the 5K race at Woodward Park.
He returned to Balboa Park's Morley Field on Dec. 10 to compete in the Champs Nationals Cross Country Championships, placing 25th with a time of 15:40.9 in an elite field of 40 runners from four regional qualifiers.
Liberty Charter competes in the Frontier Conference for track and field and Summit League in baseball, softball and boys volleyball for spring sports.
The school offers boys and girls basketball and boys and girls soccer in the winter.