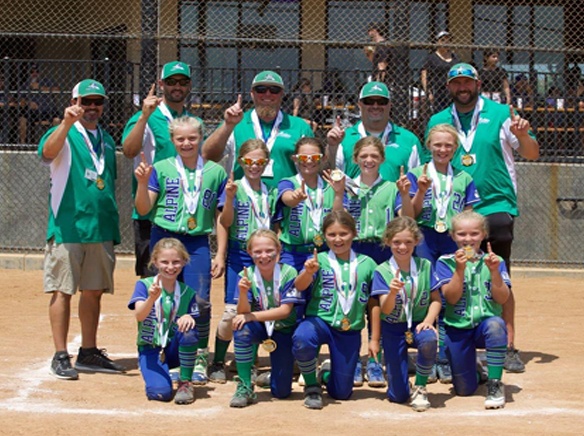 The Alpine All-Stars girls softball team won in their division at the C-State Games Regional
Tournament held July 23-25, the highest they can go as a team this season.
With 48 teams competing at ballfields throughout Lakeside and Santee, the girls won all six games on their schedule and ultimately took first place, beating out 18 other teams, including the only one that bested them two weeks ago at the State tournament where they won nine games in a row and qualified for Regionals.
Tournament Director Kristi Allen said there were fewer teams than usual this year, likely due to the COVID-19 pandemic but competition was still fierce.
"Alpine's real accomplishment was making it to here after playing in Lancaster with that heat. They won nine games in a row and Southern California has some of the better teams. There's some competition," Allen said.
Heralded as The Mighty Nine for having just nine players, the team added a new player, Taylor Nash, 10 to become The Mighty Nine + One in case they needed a substitute, a choice coach Matt Passanisi said made him more comfortable on the off chance anyone was injured.
In the end, there were no injuries and the girls, he said, played "like they were on fire".
The remarkable part, he said, was how many runs they had each inning.
"Two of the games, the semifinal game and the championship game were most memorable because they had scored ten runs in one inning, they batted around almost twice through their entire lineup in one inning. So with twenty up at bat in one inning, only three players got out," Passanisi said.
Although he said their pitchers had amazing games, the magic was in how all the girls played together as a team; not one girl had an off game.
"In the championship game, we had a 13-run inning. Those girls— I've never seen them hit as well as they did," Passanisi said.
Unfortunately, this marks the end of the line for two of the players, Catcher Cassidy "Cassidilla" Sterling and Shortstop Jameson Spencer, who are both aging up to the next division.
It also marks the end of the season for The Mighty Nine, who are finishing at the very top with Regionals but are too young to go on to Nationals.
"Once you move up to 12s and 14s they go to Nationals. But for an Alpine team to win Regionals, nobody has gone this far," Passanisi said.