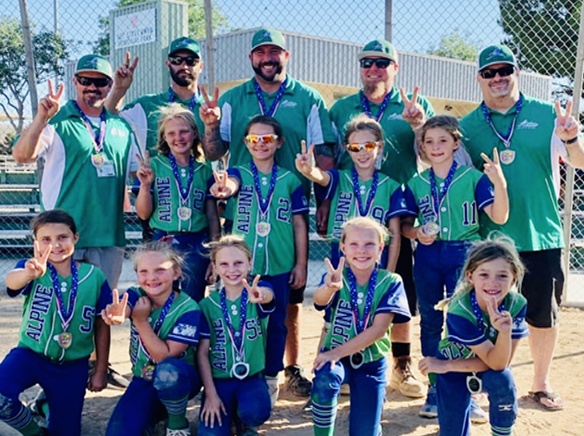 The Alpine All-Stars softball team, dubbed The Mighty Nine with just nine girls ages ten and under on the roster, won nine straight games at a State-level tournament in Lancaster, CA on July 11-12 after losing their first game, ultimately taking second place for the entire event and si­multaneously qualifying for Re­gional championships.
Out of 102 Southern California district teams, The Mighty Nine now hold second place going into Regionals, scheduled for July 23-25 in Santee.
Eight-year old Preslee Reis, the youngest on the team, said "we never give up and that's why we win so many games."
Her mom, Kelli Reis said win­ning three out of their four Sat­urday games in a row at the Lan­caster tourn ment qualified them for regionals so they went into Sunday "just wanting to have fun" but ended up winning five more games in a row, despite the high temperatures and lack of substi­tute players.
Shortstop Jameson Spencer's Mom, Brindy Spencer said she watched the girls "crumbling with tears" toward the end of Sunday after playing so many games in the heat.
"It was like 102, 104 degrees in Lancaster and they were exhaust­ed. They only had 15 minutes be­tween games and that last game they just played with heart. They went to hold their little bats up and they were so tired but you'd smile at them and they'd smile back, then turn back to the game and just keep going," Spencer said.
Center Fielder Lexi Passinissi and her twin sister Second Base­man McKenzie Passinissi, both 10 and coached by their dad Matt Passanisi along with Rob Spencer, Jeremy Sterling and Clint Green, agreed that the most important thing is to keep trying.
"Never give up. You have to be­lieve in yourself and keep trying. Playing center field-— you have to run every pitch to see where the ball is going," Lexi said.
She's looking forward to Region­als, she said, so she can trade pins with other teams and walk in the pre-tournament parade.
Her sister, Kenzie, described the blisters she gets on her hands from pitching and said it is im­portant to keep going as hard as possible even when you're losing because "you never know what can happen."