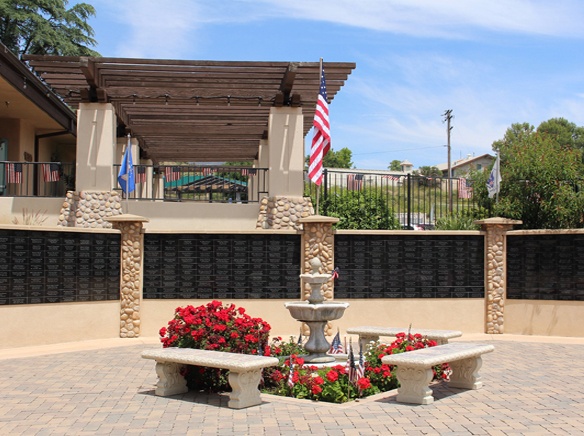 Several new names were added to Alpine's Veterans Wall of Honor this week with enough time for their granite tiles to set in place on the stucco wall before Dan Foster announces those new additions this Saturday, Nov. 12 at 9:30 a.m.
The Wall of Honor, originally conceived as a memorial for Alpine veterans, has since grown to include the names of living and deceased veterans across all branches of service regardless of where they make their home.
Foster describes the ongoing project as a 'thank you' for anyone who put on a military uniform.
"Thank you. Those are simple words. They're words that aren't used very often anymore. And when it's put on a granite tile, that gratitude is louder, I think," Foster said, seated by the twinkling fountain in the center of the memorial. A hero, he said, is defined "a whole lot of ways" from teachers to farmers who provide food for our table to policemen and firemen but he thinks "anybody who put a military uniform on for our country is a hero" even if they never left San Diego.
"The people on that wall— they're heroes even if they didn't win a distinguished flying cross or a medal of honor. They served our country and I want to make sure that we know that, make sure that we recognize them as heroes, even if it's just with a 14 by 12 inch tile. It gives a chance for our children and our families and the families of these men and women to be recognized," Foster said.
The granite tiles reflect each veteran's name, rank and service, even on an overcast morning. An early plan for names laid into a brick path didn't appeal to Foster, he recalls, as he didn't want anyone to walk on his father's name.
An upright wall was built instead, with the names of veterans who have served slowly added to the wall, then an expanded wall over the past 11 years. Foster noted it is intended to be visible at any time of day or night.
"It's lit up all day and night and it's meant to say 'don't forget about these people' because these people stepped up to do something extraordinary," Foster said.
As decades pass, he hopes the community will continue to come to the wall.
"I'm pretty happy with how it's turned out and I would be really happy in 20 years to see that we still have people down here every day, Girl Scouts and Boy Scouts and school children learning, happy to know that somebody is coming down and watering the flowers and cleaning the tiles and doing the things that need to be done to be to keep it up," he said.