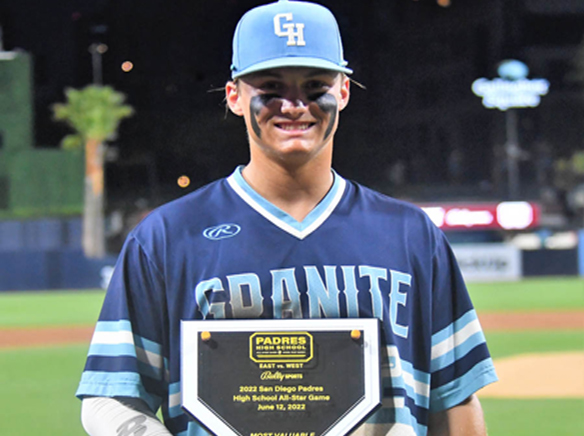 Parity? No top-seeded team won a division championship in this year's San Diego Section baseball championships. In fact, just one top-seeded team even advanced to the divisional championship game.
Grossmont Hills League champion Granite Hills received the No. 1 seed in the Open Division and won its opening three playoff games before being smacked by No. 2 La Costa Canyon, 10-3, in eight innings in the division final.
St. Augustine received top seed among Division I teams but went out in two games following back-to-back losses to No. 8 Cathedral Catholic (10-7) and No. 5 Grossmont (7-6).
Francis Parker (26-7) received the No. 1 seed in Division II. The Lancers lost, 3-0, to eighth-seeded Christian in their first game, came back to win their next two games in double-elimination play, including eliminating Christian, 7-3, in the fourth round, before finally biting the dust in an 11-7 setback to fourth-seeded Canyon Crest Academy (24-8) in fifth-round action.
Rancho Buena Vista (20-13) continued the trend in the Division III playoffs by dropping its first game to an eighth-seeded team, this time Metro-South Bay League champion Mar Vista. The teams rematched in the fifth round with the Mariners prevailing by a score of 5-2 after the Longhorns forced the "if necessary" game with clutch 6-1 victory.
Top-seeded Oceanside (23-9) lasted four games in the Division IV bracket, winning its opening two games before being eliminated with two losses to fifth-seeded Fallbrook (20-15). Pacific Ridge, top-seeded in Division V, lost, 6-1, to ninthseeded Army-Navy Academy in its playoff opener. The Firebirds (15-9) bounced back with elimination wins over Ocean View Christian Academy (9-3) and Army-Navy Academy (12-2) but ended the season with a 5-3 loss to fourth-seeded Lincoln (16-14) in the fifth round.
Granite Hills head coach James Davis said he was not surprised by the outcome of the section playoffs, with top seeds having difficulty navigating their way to championship games.
"It's always going to be competitive," Davis said. "San Diego is one of the best spots for baseball. There's a lot of talent. There's a lot of good baseball players."
"Everyone gave everything," Eagles shortstop Camden Sos said in retrospect. "There was no pressure on us being the No. 1 seed. We had the mentality to go out and win every game." Five second-seeded teams did advance to the championship round. Besides LCC, Eastlake (Division I), Montgomery (Division II), Olympian (Division III) and Mission Bay (Division IV) all managed to successfully navigate their double-elimination brackets to reach the championship game.
Three — LCC, Eastlake and Mission Bay — won division titles.
Mission Bay (22-11) was the only team to advance to the championship round with three consecutive victories. All the other teams had to play an extra game to avoid premature elimination.
After winning a clutch 3-2 walk-off win over Carlsbad to reach the championship game, Eastlake (22-11) needed 11 innings to beat Grossmont the next day in a 7-6 marathon session to cap a series of three games in three days.
Palo Verde Valley, the 10th seed in Division V, proved to be the ultimate bracket buster in this year's tournament by defeating No. 7 seed St. Joseph Academy (12-7) in the singleelimination round, secondseeded Coastal Academy (14-9) in the opening round of doubleelimination play, third-seeded Liberty Charter (15-8), sixthseeded Calipatria (14-10) and Lincoln in the final round.
The Yellow Jackets, who suffered through a six-game losing streak in midseason, eventually concluded their season with a final 11-22 record and an appearance in the Southern California regional playoffs.
A total of 10 San Diego Section baseball teams were invited to this year's Southern California regional playoffs, including Granite Hills and Grossmont.
Granite Hills, which drew the No. 8 seed in the Division I bracket, ended its season with a 5-2 loss at top-seeded JSerra Catholic while senior Barron Zamora drove in three runs in sixth-seeded Grossmont's 5-3 upset win over third-seeded La Quinta in the Division III quarterfinals.
Second-seeded Torrey Pines defeated top-seeded Etiwanda, 19-8, to win the Division II regional championship.
Zamora finished the season with a 0.352 hitting average in 36 games with 28 runs scored, 27 RBI, 11 doubles and seven home runs.
Senior Grant MacArthur led Granite Hills with a 0.440 hitting average and nine home runs while tying classmate Hunter Beamon (0.380) for the team lead with 24 RBI. "We lost five starters, but we have some good guys coming back," Davis assessed.
"We have a lot of depth in our program. But it's going to be a challenge to win 24 games again and play at such a high level. But I think we can."
Grossmont finished its season 16-19-1 with a number of close calls, including the loss in the CIF championship game. "We battled a tough 11 innings, everyone played their hearts out," said junior Justin Tucker, who doubled twice and drove in three runs.
"Obviously, we were trying to score to win it. Both pitchers were tough in the extra innings. Give credit to Eastlake. It was a great game."
And, overall, a noteworthy season.