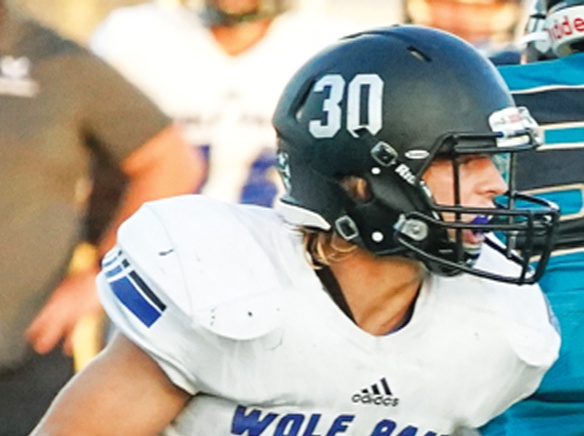 East County's high school football season appears to be going strong after seven teams in the region picked up nonleague wins on opening night last weekend. The Helix Charter High School football team showed why it commands attention near the top of the San Diego Section rankings after scoring a 41-21 non-league win at Mira Mesa High School last Friday. Senior receiver Quincy Herron also showed why he commands respect at this position in the county by grabbing seven balls for 133 yards and four touchdowns.
Herron hooked up with Highlander junior quarterback Ryland Jessee for the four scores as Jessee completed 13 of 21 passes for 206 yards. The pair's longest touchdown on the night traveled 50 yards. The visiting Scotties rolled up 339 total yards in the victory. Jessee finished the night with a 134.1 quarterback rating. Junior Kevin Allen III rushed 13 times for 111 yards and one touchdown while making two catches for 26 yards. Helix led 27-0 at halftime.
STEELE CANYON 41, HERITAGE 30
Senior Major Givens rushed f o r 232 yards and three touchd o w n s t o lead the host Cougars past the visitors from Menifee. Junior Michael Lindley rushed for 81 yards and two touchdowns while making two catches for 73 yards. Givens fini s h e d t h e game with 253 all-purpose yards, including 21 kick-return yards. He broke loose on scoring runs of 56 and 73 yards. Steele Canyon racked up 486 yards in total offense to go with seven touchdowns. The Cougars rushed for 373 yards while sophomore quarterback Joshua Herber passed for 113 yards and one touchdown pass to junior Michael Dodds. Senior Keanu Pettiford keyed the Steele Canyon defense with eight tackles while senior Enzo D'Augusta had two sacks. Matt Thornton added five kicking points.
EL CAPITAN 37, CANYON HILLS 6
Sophomore Brandt Barker and senior Bruce Newland III combined for 260 passing yards and three touchdowns to lead the host Vaqueros. Newland passed for 109 yards and two touchdowns while Barker passed for 151 yards and one touchdown. Senior Angel Diaz had 56 of the team's 95 rushing yards while junior Julian May had a big night on the receiving end with four catches for 149 yards, two touchdowns, and one punt return for 28 yards. Sophomore Chance LaChappa and senior Michael Segovia each had one fumble recovery while Segovia had one interception return for 29 yards. Senior Austin Cordeiro led El Capitan with two interceptions for 31 yards. Junior Ryder Lynn led the team with seven tackles. LaChappa also had four catches for 72 yards while senior Lailia Rodriguez collected five kicking points in the victory.
WEST HILLS 24, GROSSMONT 6
The visiting Wolf Pack received touchdowns from junior Diego Calderon, senior Collin Dill and junior Nathan Stevens and a field goal from senior Tyler Hayley in the cross-divisional win.
Stevens scored on a 34-yard run while Calderon and Dill both scored on short bursts. Nolan Kelly was the top receiver for Grossmont with eight catches for 63 yards, including a touchdown from junior quarterback Hudson Herber, a transfer from Coronado High School., in the final minute of play.
"The Foothillers brought tremendous effort, but inconsistent play on offense, defense, and special teams helped an energetic West Hills team claim victory," Grossmont head coach Chris Holmes said. "The Foothillers will need to refocus and bring a solid work-ethic to practice daily to be competitive on Friday nights."
MOUNTAIN EMPIRE 20, HOOVER 14
Corey Vann completed three touchdown passes to lead the Red Hawks to the season-opening non-league win. David Lothspeich caught a 53-yard touchdown pass. Hunter Morgan and Shiattea Lindholm also caught scoring passes. Prep Football Week 1 NON-LEAGUE Thursday, Aug. 18 Mt. Miguel 42, Sweetwater 0 Friday, Aug. 19 Helix 41, Mira Mesa 21 Steele Canyon 41, Heritage 30 El Capitan 37, Canyon Hills 6 West Hills 24, Grossmont 6 Monte Vista 42, Maranatha Christian 21 Mountain Empire 20, Hoover 14 Poway 31, Granite Hills 19 Hilltop 28, Valhalla 14 Ramona 28, Christian 0 Mission Bay 27, El Cajon Valley 14 Point Loma 48, Santana 10 Bagdad (Ariz.) 40, Foothills Christian 10.