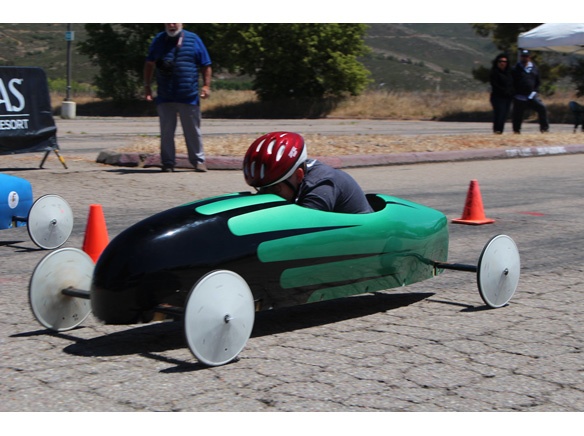 Saturday marked the first time kids strapped on their helmets and hit the racetrack for the first Al­pine Kiwanis soap box derby since 2019.
Colorful stock and super-stock cars were lined up near the track, awaiting their racers, aged seven to nineteen, who raced in pairs at the Viejas lot-turned-racetrack for the day.
Kiwanis director Mike McMa­hon grinned from where he stood near the finish line and said it was great to be back and fun to watch the kids.
"It is exciting— you get to stand down here at the finish line and watch these kids come down and their smiles just get wider and wid­er as they come down the track. So much fun," McMahon said.
With 22 racers entered, compe­tition was steep but Bryan Free­berg, aged 10 said he's always wanted to race "different things," including cars.
"If I'm able, I'd definitely like to go to Ohio," Bryan said, refer­ring to the All-American Soap Box Derby World Championship in Ak­ron where winners from the local Alpine race sometimes go on to higher tiers of competition.
Cayden Schwenck, 9 said he'd never raced before, was brand new to the hobby but thought it was fun and would definitely try it again.
While some families were there strictly for the fun of the day, oth­ers saw the event as a learning op­portunity.
Looking over at his young daughter, one father said he believes it is important to get school-aged girls involved in sci­ence, technology, engineering and math, or STEM fields while they're young and expose them to potential career paths.
"This is really an opportunity for her to get involved in a technology field. It's important to see there are people that look like you, think like you and that there are no limi­tations," he said.
The orange car Niko Kaderabek steered to land his World Champi­onship in 2018 sat off to one side, waiting for a racer to jump in and lead the next generation to a win.
A handful of young teens had turned up as volunteers to help the younger children. Joseph Sav­in, an eighth grader who said he "thinks he's too old to get into rac­ing" said he enjoys the mechanics of helping with the cars.
"I started out by helping with the brakes, figuring out how to make them go faster. It's really in­teresting," Joseph said.
Older teens from Granite Hills High School Key Club, a service organization that is affiliated with Kiwanis helped racers down at the finish line alongside Steele Can­yon High School students who are required to complete community service hours.