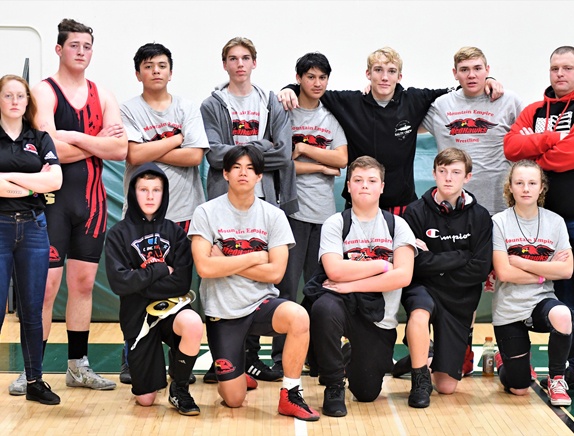 Expectations are a bit loftier for the 2019-20 Mountain Em­pire High School wrestling team, and with good reason, according to head coach Justin Reed.
"We have 21 kids on the team this season," said Reed, who is coaching his second season with the team. "Last year we had only six kids — five boys and one girl. We have three girls and 18 boys this season."
Reed said he is looking for commitment and dedication from his team this season — key elements that could lead to a Citrus League championship.
So far, the numbers have started to add up to some posi­tive results.
The team opened the season by competing in the Carlsbad Invitational on Nov. 23, then competed in the 49th annual El Cajon Invitational Dec. 13-14 at San Ysidro High School.
Heavyweight Dillynn Mc­cMillan represented the Red Hawks on the awards stand with an eighth-place medal at the 50-team ECI tournament.
Overall, Mountain Empire had 13 wrestlers compete at the San Diego Section's longest-run­ning wrestling invitational.
McMillan finished 4-3 in seven matches on the mat with three pins to lead the backcoun­try contingent.
Hector Gutierrez Lemus ad­vanced to the fifth consolation round in his 160-pound weight class while teammates Larry Clark (170 pounds) and Zayne Higuera (195 pounds) both advanced to the fourth consolation round.
Eight other Mountain Empire wrestlers advanced to third con­solation round matches: Coltin Reagan (106 pounds), Nicholas Rose (132 pounds), Brian Koppa (138 pounds), Aiden Hamada (145 pounds), Damian Fisher (152 pounds), Abraham Penu­elas (220 pounds), Chaz Ennis (220 pounds) and A.J. Hardison (285 pounds).
Nathan Hill (182 pounds) ad­vanced as far as the second consolation round.
The Red Hawks most recent­ly competed at the Hilltop var­sity dual tournament on Jan. 4 to face off the 2020 portion of their schedule.
Clark earned a bronze medal in his 170-pound weight class with a 3-2 record. He previously captured first place in his weight class at junior varsity tournaments at Granite Hills and Montgomery high schools.
Mountain Empire paired up against five teams in the dual format tournament: Eastlake, San Ysidro, Mira Mesa, Central Union and Otay Ranch high schools.
Koppa, Hamada and Clark won by a first-period pins while Hardison won by a second-period pin to provide individual highlights for the Red Hawks in their final-round match-up against Otay Ranch — a 48-30 loss.
Mountain Empire is back on the tournament trail Jan. 11 at the Jim Londos Memorial Invitational in Escondido.
The Red Hawks start their league schedule Jan. 16 at Gua­jome Park. Other league dual meets are against Calipatria, Army-Navy Academy and newcomer Calexico Mission School.
The San Diego Section girls divisional tournaments are schedule Feb. 8 at Olympian (Division I) and Santana (Divi­sion II) high schools, followed by the inaugural San Diego Section Masters girls state qualifying tournament Feb. 14 at Steele Canyon High School.
Mountain Empire will com­pete at the San Diego Section Division IV boys championship tournament Feb. 15 at Army- Navy Academy. The San Diego Masters boys state qualifying tournament is scheduled Feb. 21-22 at Southwest El Centro High School.
The three-day California state championship tournament (both genders) is slated Feb. 27-29 in Bakersfield.