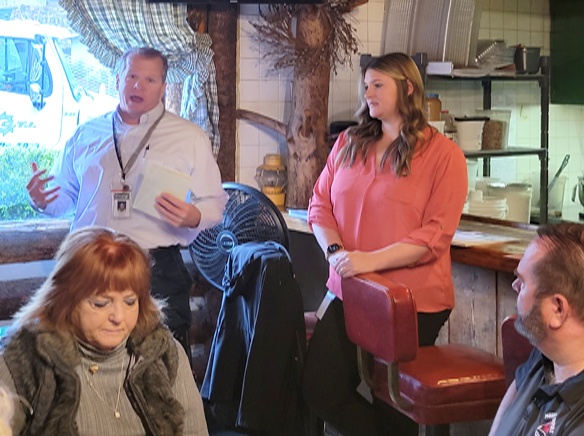 The Alpine/Mountain Empire Chamber of Commerce shuttered their doors on Sept. 30, 2020 after half a year of attempting to preserve business connections while the COVID- 19 pandemic took root in San Diego County. In June 2022 the Chamber made its return and is now rebuilding for the future.
Membership and administration manager Lynn Meyer said chamber leaders realized the organization needs to take a different approach to the postpandemic world, "a rebirth and different approach" focusing on partnerships and building relationships with local businesses in and out of the area.
"One of the things we decided to do was develop a new membership structure. Before the pandemic, membership was based on the number of employees at a business. Our new structure has five different levels of membership and business owners can choose what they want based on their needs," Meyer said.
Additionally, they created a membership tier for non-profit organizations.
"By the end of this first quarter, we will also be kicking off individual memberships because we have a lot of people in Alpine who are retired or former business owners, or worked for a big company and don't currently own a business but have a lot of wisdom and experience that is so valuable," Meyer said.
Although she said she can't speak to what practices were in place prior to the pandemic as she was not on staff at the time, Meyer said she has noticed "the pandemic changed how people do business" and owners are still trying to determine how to approach networking.
"Social media is big but I'm watching people help each other, which is amazing. For example, Off the 8 Cafe had Instagram but not Facebook and the new owner wanted to be more active on social media. One of our members, totally for free, went out and helped them set up their Google analytics so they're on page one instead of page 17 of a search," Meyer said.
Internally, Chamber staff and volunteers have been working to push out information on social media to build an audience, Meyer said, focusing on local concerns that affect businesses such as the work being done on I-8 which has taken a toll on traffic. Business owners and employees alike want to know if their commute is going to take an extra hour so they can plan ahead.
They also addressed a recent spate of Alpine break-ins that could be concerning to local businesses by asking the Sheriff's Department to give an informational presentation which she said was well-received, with about 25 business owners participating. Partnerships with law enforcement and first responders have gone well, she said as well as partnerships with nearby East County and Lakeside Chambers.
"As soon as I was in place here I reached out and asked for help and they have totally stepped up. And, it's not just about businesses located in Alpine and the back country but also about those East County businesses who serve the Alpine area. Residents and businesses use their services so why wouldn't we include them? I've got businesses in Lakeside, El Cajon, all over East county," Meyer said.
Although the Chamber did not bill for renewal memberships throughout the pandemic, Meyer said the bottom line is that "it's not about getting 100 memberships in 30 days, it's about getting quality investments from businesses that are going to be good partners down the road" and potentially bring in other members in years to come, an approach they are starting to build.
This year, the Chamber is taking over the Taste of Alpine, she said, and is planning to bring back the Alps Gala awards.
Additionally, they're bringing back the Honorary Mayor election, a fundraiser with individuals competing for donations to the charity of their choice with the strictly unofficial title of Mayor of Alpine bestowed upon the one who raises the most in donations. Applications are being accepted through Jan. 31 then the campaign kicks off on Feb. 7 and runs through the end of March with a winner announced in April.
"This year, we've decided the candidate does not need to be human but has to have a human campaign manager. The human has to be a Chamber member and each dollar they raise for their chosen non-profit equals one vote," Meyer said.
They're also planning an En Plein Air art celebration for 2024 where people will have the opportunity to paint in a natural setting, talk with artists and buy original art in an event Meyer said will give Alpine and the Back Country a chance to promote itself to all of Southern California.
Anyone interested in details of upcoming events or interested in learning more about the new Chamber can visit www. alpinechamber.com or stop by their office at 1620 Alpine Blvd.