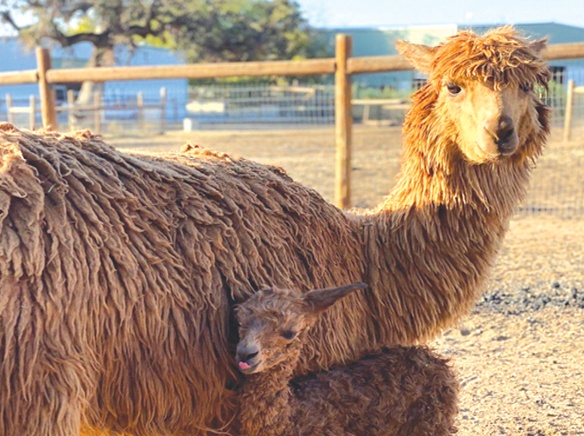 The Children's Nature Retreat, a safe haven to over 200 animals from around the world is holding their annual Christmas tree lighting and holiday festival from 10 a.m. to 5 p.m. on Dec. 11.
Children's Nature Retreat Founder and Executive Director Agnes Barralet said there will be craft vendors on hand for some holiday shopping, along with food and holiday treats like hot cocoa and apple cider, as well as hayrides and games.
"We have Santa coming and people will be able to take photos but really, it is the animals that make the day," Barralet said.
Families can enjoy some Christmas shopping and enjoy the holiday festivities, she said, while spending a day with the animals in a soothing and healing environment.
"The reality is that we could use financial support so we try to plan what the public asks for. However, we offer something that doesn't exist anywhere else in the area throughout the year," Barralet said, and it can be hard to communicate what being at the retreat and interacting with all the rescued animals feels like.
When she first established the rescue, Barralet said, she envisioned a facility where schools could book field trips before realizing most adults had an unexpectedly emotional response while serving as chaperones.
"I was thinking about young kids with field trips and education but when I saw the reactions from adults and chaperones, I decided to open it to the public. We even had a group of juvenile delinquents come through and the adults couldn't believe the smiles, or the response they got from the animals. People who like to challenge everything, who think they know everything come across one of our zebras and it humbles them," Barralet said.
Placing a hand on a horse who is six or seven feet tall is hard to put into words, Barralet said, and "even a sour teenager" cannot stay that way around the beauty of animals. Animals bring out the good in people, she said, and people can't be insensitive to that response.
"One of our board members says she loves our space because people are happy to come but they leave happier. Our animals love their home and the fact that we rescued them, and you can feel their happiness— the emotion between an animal and yourself, it's palpable," Barralet said.
Adding in the craft vendors with candles and jewelry and handmade items is an extra layer of holiday fun, she said, "very cheerful with all the decorations" and a 25-foot tall Christmas tree.
The Christmas tree lighting is scheduled for 4:30, and the day will end with singing Christmas carols as the sun goes down.
The Children's Nature Retreat is located at 5178 Japatul Spur in Alpine. Call (619) 320- 4942 or visit www.childrensnatureretreat. org for more