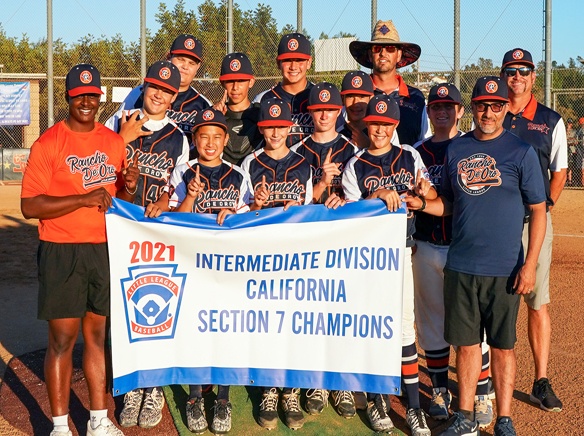 The Little League World Se­ries is back on in South William­sport, Pa., and the first salvo has been fired for teams taking the long qualification path to the Keystone State.
This year's Little League World Series tournament is scheduled Aug. 19-29 for 16 United States-based teams. There will not be an interna­tional field this year — the first time since 1975.
Before domestic teams can get there, however, they will have to successfully navigate elimination play at the district, section, divisional and regional levels.
The Little League West Re­gion championship tournament is scheduled Aug. 8-14 in San Bernardino.
The journey starts at the dis­trict level for East County teams from California District 41.
California District 41 Little League serves 15 member leagues: Alpine American Little League, El Cajon National Little League, El Cajon Western Little League, Fletcher Hills Little League, Jamul Little League, Julian Little League, Lakeside American Little League, Lake­side National Little League, Mountain Empire Little League, Rancho de Oro Little League, Rios Canyon Little League, San­tana National Little League, Santee Pioneer Little League, Singing Hills Little League and West Hills Little League.
Each district has its own qual­ification process to determine its district all-star champion. Teams may participate in round-robin pool play while also par­ticipating in double-elimination bracket play.
Championship games wrapped up last weekend.
Only the 12U division leads to the Little League World Series. The 10U, 11U, 13U, 14U and 16U divisions will end at the state level this year.
Parade of champions
This year's District 41 East County champions included Rancho de Oro (10U, 11U and 13U/Intermediate Division), Fletcher Hills Little League (12U) and Santana National (Se­nior Division).
Alpine American Little League hosted the 10U all-star tournament. Six teams par­ticipated in double-elimination bracket play. Rancho de Oro completed tourney play 3-0 to win this year's championship banner.
Rancho de Oro opened tour­ney play with a 10-2 win over Lakeside American on July 6 after Lakeside National had de­feated Rios Canyon by a score of 22-2 on July 5.
Rancho de Oro defeated Fletcher Hills (11-8 winners over Alpine on July 6) by a score of 7-5 in the winner's bracket fi­nal on July 8. Previously, Alpine American eliminated Lakeside National by a score of 6-3 in a loser's bracket game on July 8.
Fletcher Hills shut out Alpine American, 10-0, in the loser's bracket final on July 9 to gain a berth in the July 10 champion­ship game.
Rancho de Oro completed its championship run to this year's division title with an 18-1 win over Fletcher Hills to advance to sectional play.
Two teams participated in the 11U all-star best-of-three championship series at Rancho de Oro Little League. Rancho de Oro swept the series against Fletcher Hills by scores of 12-3 on July 10 and 10-0 on July 11.
Fletcher Hills and Rancho de Oro little leagues hosted the 12U all-star tournament.
Fletcher Hills completed the six-team double-elimination bracket with an undefeated 4-0 record.
Fletcher Hills faced off tour­ney play July 6 with a 9-6 win over Alpine American, then blanked Rancho de Oro, 12-0, on July 7.
Fletcher Hills continued its winning ways with a 7-2 win over Singing Hills on July 9.
Singing Hills defeated West Hills, 5-4, in an elimination game on July 10 to rematch with Fletcher Hills in the champion­ship game on July 11.
Fletcher Hills made sure there would be no double-elimi­nation game with a 16-2 win to add an exclamation point to dis­trict play.
The next level
The Section 7 Senior Division tournament took place July 2-7 at Spring Valley Little League.
District champions from District 41 (Santana National), District 42 (Sweetwater Valley) and District 66 (Lemon Grove) participated.
Sweetwater Valley defeated Santana National, 24-2, to blast off the event on July 2 while
Sweetwater Valley defeated Lemon Grove, 8-3, on July 3.
Lemon Grove defeated San­tana National, 20-5, in a loser's bracket game on July 5 to meet Sweetwater Valley on July 6. Lemon Grove returned the fa­vor by defeating the District 42 champion by a score of 7-6.
The teams met in a double-elimination contest on July 7. Lemon Grove won another nail-biter over Sweetwater Valley, 5-4, to capture the section ban­ner.
Lemon Grove advances to the Southern California division tournament hosted by San Di­ego District 32 Little League.
The Intermediate Division sectional included three teams: Rancho de Oro (District 41), Southwest (District 42) and Val­ley de Oro (District 66). Games took place July 1-5 at Sweetwa­ter Valley Little League.
Rancho de Oro swept through the competition with three com­manding victories. The District 41 champions opened the tour­nament with an 18-1 win over Valley de Oro and swept South­west by scores of 14-4 on July 2 and 18-1 on July 5 to advance to the Southern California di­visional tournament hosted by District 32.
Southwest eliminated Valley de Oro by a score of 24-8 on July 3 in a loser's bracket contest to gain a rematch against Rancho de Oro.
The Little League Softball World Series is scheduled Aug. 11-18 in Greenville, N.C. and will include 10 teams. It will expand to 12 teams next year.