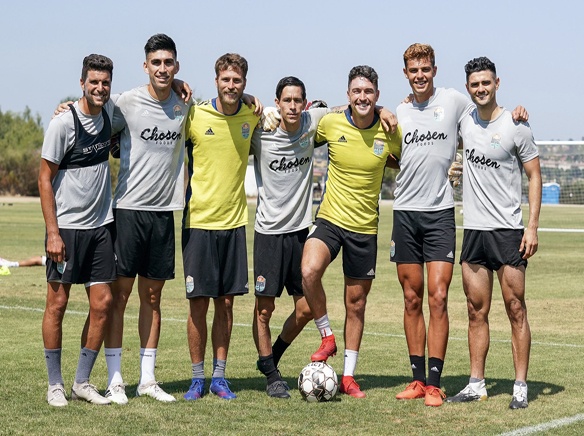 Calling all prospective profes­sional soccer players!
The San Diego Loyal SC will host two open tryouts this month in an effort to expand the team's recruiting pool and discover play­ers for its second USL Champion­ship season.
The two sessions will be held on Feb. 20 at the SoCal Sports Complex in Oceanside and on Feb. 27 at the Chula Vista Elite Athlete Training Center, where the professional soccer team trains.
"Last season, we had two play­ers on our roster who got their start in the USL through an open tryout," Loyal EVP of soccer op­erations and manager Landon Donovan said. "Given the fact that San Diego is the best soccer mar­ket in the country, we fully expect to find the next Emrah Klimenta or Austin Guerrero at our upcom­ing tryouts."
Aspiring soccer players from all over the world have a life-chang­ing opportunity to impress the SD Loyal coaches and scouting staff for a chance to earn a pro­fessional contract and a spot on the team's roster. Players inter­ested must be ages 15 to 26 and SD Loyal guarantees at least one person from the tryout session will be invited as a trialist for 2021 training camp.
Registration is $115 per person per session with limited spots available. There are opportuni­ties for players to get scholar­ships through the club. For ques­tions about limited scholarships available, contact Lizzy Rivas at lizzyr@sdloyal.com. For all ad­ditional questions, contact try­outs@sdloyal.com and to register, log onto sdloyal.com/tryouts.
In the meantime, the SD Loyal SC continues to build its roster in advance of the 2021 season, which the league projects to be­gin in May.
The team had signed 14 players through Jan. 26, including nine players off its inaugural 2020 ros­ter.
Returners off last season's 6-5-5 team include forward Ben Spen­cer, midfielders Charlie Adams, Collin Martin, Tumi Moshobane and Morgan Hackworth, defend­ers Elijah Martin, Jack Metcalf, Grant Stoneman and Sal Zizzo.
Newcomers include forward Corey Hertzog, midfielder Jack Blake, defenders Thomas Van­caeyezeele and Ebenezer Ackon and goalkeeper Trey Muse.
The Loyal carried 30 players on its inaugural Team 1 roster.
Fans are encouraged to stay connected by downloading the of­ficial team app or signing up for updates and news via SDLoyal. com and #SDLoyal.
For more information, visit the website sdloyal.com.