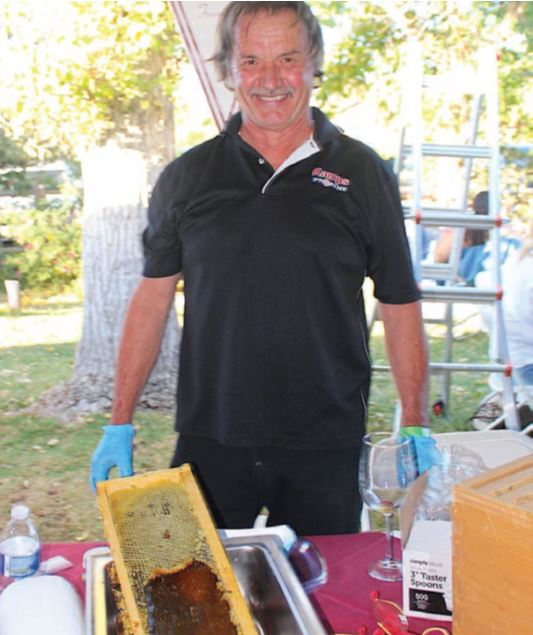 Backyard beekeeper Richard Edwords and Radio Personality Coe Lewis will be presenting an East County series of talks loosely called The Richard and Coe Show, Edwords said with a chuckle, connecting the history of local beekeeping with the more modern application of using bees for biofencing.
The first talk is planned for 6 p.m. on Feb 28 at the Lakeside Historical Society, followed by a second talk to be scheduled in Alpine.
Prior to the pandemic, Edwords often gave talks about honeybees and apiarists, people who keep bees primarily for the production of honey, and the upcoming talks are something of a return to life as usual for the homesteader. A familiar face at Lakeside, El Cajon, Alpine and backcountry events, Edwords usually has honey on hand at fundraiser events like Vintage Alpine and the Alpine Community Center's Queen Bee brunch.
The history of East County is sticky with honey, from the many backyard apiaries scattered across Lakeside and El Cajon to the Section Honey Box patented by Alpine's John Harbison— the namesake of Harbison Canyon— in 1859.
"The Alpine Historical Society might be lending me their display on Harbison's design. His design was revolutionary, really he was the first migratory beekeeper worldwide," Edwords said.
We think of honey as being a local, natural product but bees, Edwords said, aren't native but were introduced by Europeans before early homesteaders moved them across the nation.
"They were foreign, today they'd be called an 'invasive species'," he said, laughing lightly.
The duo is planning on developing the talk into a presentation to travel all over East County, starting with the Lakeside Historical Society at 6 p.m on Feb. 28.
"We're still working out all the details but the first part of the talk will probably be about the history of beekeeping in San Diego, then we'll follow that with Coe talking about biofences," Edwords said.
Known locally for her on-air patter as a 101.5 KGB radio personality, Lewis is also cofounder of Nsefu Wildlife Conservation Foundation, a non-profit organization which aims to end animal poaching in Zambia by protecting endangered animals while simultaneously creating ways poachers can support their family.
One of the initiatives the organization oversees utilizes strategically placed beehives to scare the elephants into remaining safely in areas where they are less likely to be hunted for their tusks without resorting to complex fencing systems. About 20,000 elephants are killed each year for their tusks, according to the World Wildlife Organization, often by poachers who have few other ways to bring in income and support their family.
After confirming the beehives are appropriately located in heavily poached areas and effectively serving as a biowall, the Nsefu Foundation coordinates with locals to transition poachers into apiarists, honey farmers who can draw revenue from their harvests.
Although the two sections of Edwords and Coe's presentation could appear quite different, Edwords said, they're all part of the larger talk on the global benefits and challenges involved with bees.
"The biggest challenge is worldwide climate change with no rain, compounded by pesticides poisoning. Look at last year, there was no rain, it was terrible. A lot of bees perished because they had no food and locally, we see that with honey prices going up—- no bloom, no honey, no money," Edwords said.
The Lakeside Historical Society meetings are usually under an hour long, Edwords said. Although he recognizes the time frame is "not enough time to cover the whole story of bees in-depth", it is enough time to present basic information.
Call (619) 561-1886 for more information on this and future talks.