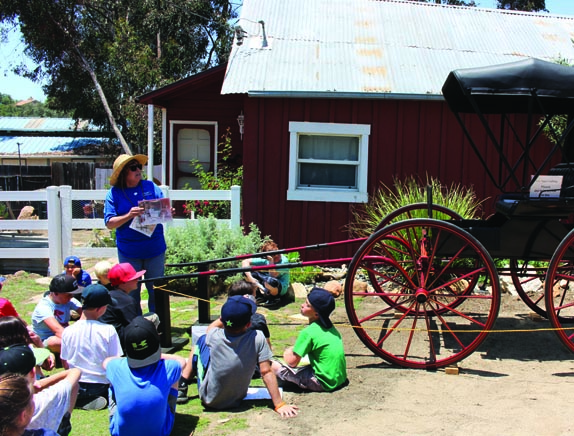 Beginning with the start of the school year in 1880, the one-room Alpine Center School, now owned by the Alpine Historical Society and housed at the John DeWitt museum, served the children of Alpine at old-fashioned wooden desks that stand in contrast to the modular setup of a modern schoolroom. Last Thursday, third-graders from Boulder Oaks Elementary School filled the room as students did over a century ago, this time marveling at the differences between the little room with the low ceilings and their own classrooms down the street.
As they gathered in the front room of the museum, scaled to a time when the average adult was approximately one foot shorter than today and decorated with a wooden "examination chair," and braided rag rugs, students asked questions about the photographs hanging on the walls, such as Carson Maritz who asked why a thoroughfare between Lakeside and Alpine was described as "terrible" in a caption.
Alpine Historical Society Archivist Carol Morrison described old Alpine with its unpaved streets and rural character for the students, encouraging the young visitors to visualize the town as it was 100 ago.
Next door at the historic Adam and Caroline Beaty House, Alpine Historical Society President Tom Myers's asking the students how they listen to music in 2019 led to an explanation of the gramophone on the table; similarly, comments about the ease with which modern children can take a picture on everyday iPhones led into a discussion over an antique Kodak camera, on display with one student asking if it was an accordion.
After passing through a dis¬play on beekeeping where all the children remained completely silent and listened to information on how significant John Harbison was to the history of Alpine, the third-graders clomped down the wooden steps to the yard outside with its display of antique farm equipment.
Although the rusted machinery was not entirely familiar to all of the children, a few raised their hands to answer questions and referenced modern versions of tools that serve the same purpose. Others circled the equipment and then backed away with uncertainty.
"They used some very dangerous tools. If you fall or trip, you might hurt yourself," eight-year old D.J. Blaylock said.