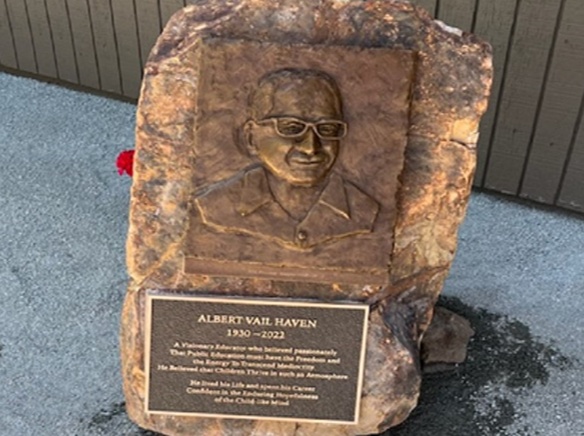 Creekside Early Learning Center held a dedication of the late Dr. Albert Haven, an active member of the community at the school on Sept. 1, unveiling a monument on the school grounds in his honor.
His wife, Sharon Haven, attended the unveiling in his stead, and said Albert Haven was an educator for 27 years, finishing his career at the Alpine Union School District as superintendent. Albert Haven then went into the financial services business for 20 years. He passed away on Feb. 24, 2022.
"He never lost his love of education and his determination to improve it," said Sharon Haven. "Prior to coming to Alpine, he had been principal of a very innovative school that he and his teachers designed at the Top Of The World Elementary School in Laguna Beach, running it for nine years. Then it continued for about 20 years after he left doing the program."
Sharon Haven said he did not believe that Alpine was ready for that program when he arrived there as superintendent, but after leaving financial services, he rededicated himself to establishing this learning program that involves small group instruction.
"All three instructional programs, but in a different way," she said. "A way to allow teachers to educate children in small groups in classrooms where that was all that was going on, so there were no interruptions. This obviously creates a much better learning curve. He was able to establish that learning program at Creekside with kindergartners, which was a surprise because it involves them leaving the classrooms, going to other classrooms. At first, they were not sure it was going to work, but it worked just fine. And that program is still going on today."
Haven said since that was the first school in Alpine that he had established the learning program, he did it also in National City in an urban environment at Las Palmas Elementary, and one of the speakers at the dedication was Ed Sanchez, whose brother was the principal at Las Palmas. She said according to Sanchez, the data showed that they made a jump in the years they utilized the program, that they had never seen before. Especially in the transitional from Spanish to English learners.
"He put the program in with Albert and he watched the teachers do it, and he was very impressed," she said. "He spoke at the dedication as well as AUSD Superintendent Dr. Rich Newman, as well as AUSD Board of Trustees President Travis Lyon, who new Albert personally, as well as the Alpine Community Planning Group."
Haven said the dedication was to honor his efforts to education, and that the plaque on the monument spoke volumes to his contributions, especially to Creekside Early Learning Center.
"I wish he could have heard all the wonderful things that everyone said about him in the year and a half since he died," she said.
The plaque on the monument reads:
"A Visionary Educator who believed passionately That Public Education must have the Freedom and the Energy to Transcend Mediocrity. He Believed that Children Thrive in such an Atmosphere. He lived his life and spent his career in the Enduring Hopefulness of the Child-like Mind."