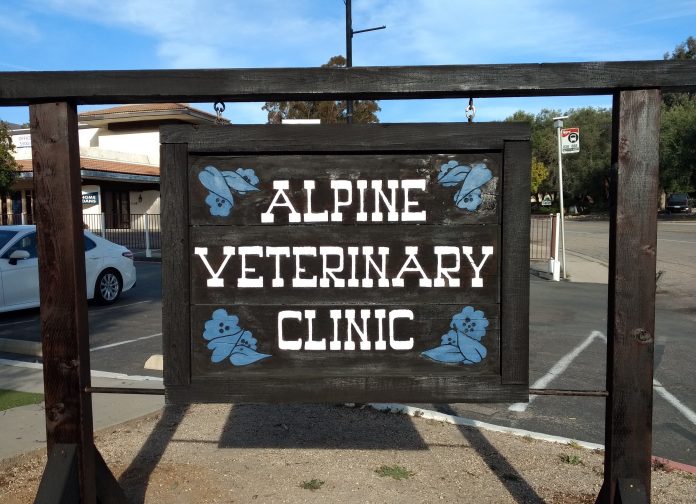 The sign hanging in front of Dr. Hackett's office osten­sibly tells what is located inside: Alpine Veterinary Clinic, the original veteri­nary office in Alpine and one of the oldest businesses in town. Office Manager Con­nie Noble suggests that the sign outside stands for the in­domitable spirit of honest and old-fashioned business in the Alpine Community.
Hackett hung up his shingle, a large wooden sign mounted in front of the of­fice shortly after he opened Alpine Veterinary Clinic in December 1975. The origi­nal sign stood until this past winter when severe thunder­storms swept through San Diego county and the sign collapsed.
Locals knew that Hackett had suffered a stroke three years ago and, when the sign came down in the storm, office staff started to hear rumors in the community which sug­gested the business was clos­ing down for good. In reality, although Hackett no longer comes to the office, he still directs the daily workings of the veterinary practice from his home office, taking calls and making business deci­sions.
Hackett himself had told Noble that when it was all over and he truly was finished with business, he would lock the door and pull the shingle. When Noble turned up at work and found that the origi­nal sign had collapsed under the torrential rains, she called the doctor and told him that it was time to decide wheth­er he was going to close the clinic or rally and fix the sign.
Thus, a new sign went up within days to quell any ru­mors in the community, with help from a caring family.
"It was Tommy LaNier and his family who helped us get the new sign up. The old one lasted 42 years and I tell people that this one is going to last for 84 years because nothing has changed," insists Noble.
"We have fabulous, wonder­ful, lifelong clients who see Dr. Hackett as a friend, not just a business owner and a doctor, a veterinarian.