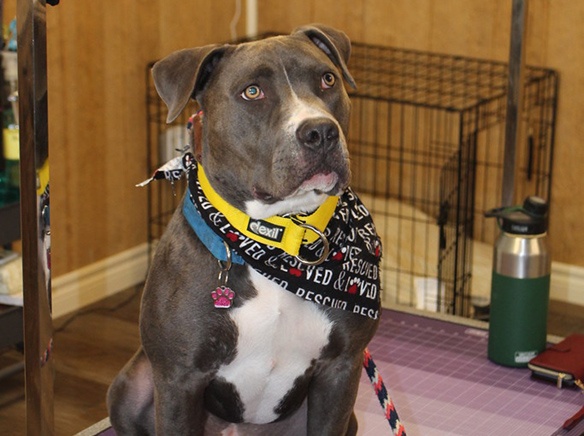 Alpine Pet Grooming opened its doors April 11 for a dog adoption event held by Passion for Pitties. The catch? No dogs could actually leave with unknown humans until the rescue group could schedule a home visit meant to ensure each pooch would ultimately end up with the perfect forever home.
Passion for Pitties founder Elise Burd said the adoption event was one of just three that have been held since the outbreak of COVID-19 and that, while processes involving local shelters have changed over the past year, the rescue's dedication to making sure each dog ends up in the "right" home remains strong.
"Unfortunately when COVID hit, we had to call off several of our planned events— our Cupids and Canines didn't happen, Santa Paws didn't happen and shelters weren't open to the public so we started using our social media platforms even more than usual to get the dogs into foster homes," Burd said.
Sunday, several of those foster families brought available dogs to Alpine Pet Grooming where potential owners could meet the dogs in person rather than relying on a social media description of each pos­sible pet.
Anthony Poggione and Sarah Shoemaker looked on as the dog they have been fostering sniffed at nearby ankles.
Shoemaker, a Rescue Partner with the organization, said she was on her third round of fostering a dog and that each experience has been rewarding.
"The joy of them getting adopted, you just know you've done your job," Poggione said.
Alyssa Signore, who owns Alpine Pet Grooming said she believes pit bulls, a common name used for Bull Terriers, American Stafford­shire Terriers, American Pit Bull Terriers and Staffordshire Bull Terriers, are usually "really good dogs who get a bad rap" and can be a challenge to rehome.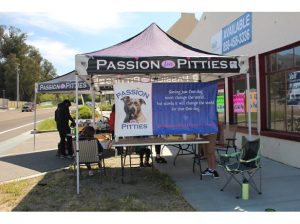 Fosters, Burd said, don't just temporarily open their homes for a dog but also engage in getting the dog ready for adoption.
"We really determine: what is the need for each dog? What is the right family for that dog? We've had many situations where some­one is interested in a certain dog but we know it's not the right home and we're very up-front in those cases. The last thing we want to do is have a failed situation for the dog again," Burd said.
With each possible rehoming they question: is the family good enough for the dog?
"Really, it's like, are you worthy of this dog?" Burd said. After the pandemic hit, "we got slammed," she said and started doing home checks via video.
In addition to receiving dozens of emails every day from people wanting to adopt dogs, they also received requests from people try­ing to rehome their dogs due to a change in income or living situ­ations.
"We had to figure out how to help people and the community while also making sure dogs ended up in the right home," Burd said.
They have not had a single per­son return any of the dogs adopted out during the pandemic.
"Usually, at our events, we're pretty successful at scheduling a home check and getting a dog or two into a good home," Burd said.
Two different people scheduled follow up home visits at Sunday's event, Signore said with Jasper and Lottie possibly going to new homes.
"Really, anyone would be lucky to have one of these dogs," Signore said.