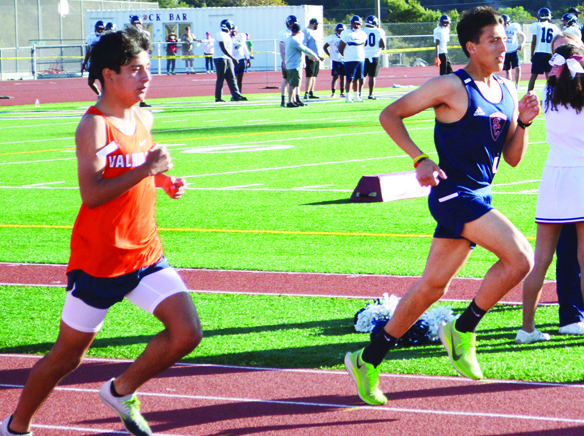 Steele Canyon High School's cross country team finished its season with 5-0 records in both boys and girls dual meets to se­cure league championships in both gender fields.
League champions were deter­mined by dual meet records.
On the boys side, the Cougars defeated Helix 15-48 (Feb. 12), Grossmont 27-28 (Feb. 19), Val­halla 16-45 (Feb. 26), West Hills 16-45 (March 5) and Granite Hills 16-47 (March 12).
Steele Canyon senior Diego Lopez (13:16) won by a whopping margin of 45 seconds over soph­omore teammate Bradley Bell (14:01) in the March 12 season fi­nale. Senior Angel Arredondo was third in 14:06, followed by sopho­more Juan Pablo Arredondo in 14:23 and freshman Collin Guffey in fifth place in 14:33.
The Cougars placed the top eight runners in the 2.55-mile race. Junior Mel De Alba-Ruiz (15:42) was the top finisher for Granite Hills in ninth place.
Lopez edged Grossmont's Rus­sell Blakely by one second to headline Steele's one-point victory against the Foothillers. Grossmont placed three of the top four run­ners in the 2.35-mile encounter at Harry Griffen Park in La Mesa, though the Cougars countered with five of the top eight finishers to inch in front on the scoreboard.
Steele Canyon placed the top four runners, led by Lopez, against both Valhalla and West Hills.
Lopez finished the season un­defeated in the five boys varsity races.
The Cougars set the pace in the first dual meet of the season against Helix by placing the top six runners in the race.
Lopez earned recognition as the Grossmont Hills male runner of the year.
Four more Steele Canyon run­ners were also named all-league. To make all-league a runner had to place among the top 10 runners in the league, determined by head-to-head competition in dual meets.
Joining Lopez on the all-league team were senior Angel Arre­dondo (third), sophomore Brad­ley Bell (fourth), sophomore Juan Pablo Arredondo (fifth) and soph­omore Dominic Rizzo (10th).
Steele Canyon won the girls dual 16-46 over Granite Hills to wrap up the season. The Cougars paraded the top seven runners across the finish line, paced by se­nior Jennifer McCubbin (14:01). Sophomore Chase Diffenbaugh finished second in the 2.15-mile race in 14:41, followed closely by classmate Eryka Garcia (14:46) and junior Ariel Curiel (14:54).
Sophomore Kelly Cahill led the Eagles on the course in eighth place in 15:23.
Steele Canyon swept all four races against Granite Hills. Soph­omore William Manuk won the 2.15-mile boys JV race in 13:19 while sophomore Reilly Deegan won the girls JV race in 16:32.
Steele Canyon stepped off the girls varsity season with a 15-50 win over Helix (Feb. 12) and fol­lowed with wins over Grossmont 27-30 (Feb. 19), Valhalla 27-32 (Feb. 26) and West Hills 17-46 (March 5).
Sophomore Graziella Mineo posted a winning time of 13:56 in the dual meet against Helix, fin­ishing well over a minute ahead of Diffenbaugh in second place in the 16-deep race.
Grossmont senior Madeline Mi­nutelli edged Steele's McCubbin by 50 seconds to win their Feb. 19 duel. However, the Cougars re­corded six of the top 10 finishers to post the three-point victory.
Steele Canyon's depth proved to be critical in close matchups.
Valhalla recorded a 1-2 finish against the Cougars, paced by se­niors Kate Baranski (13:15) and Peri Kraft (13:47) on the 2.15-mile course, but Steele Canyon re­sponded to capture the contest with nine of the next 10 runners across the finish line.
McCubbin (12:59), Garcia (13:58) and Curiel (14:04) finished in order against West Hills.
Minutelli finished undefeated as an individual for Grossmont.