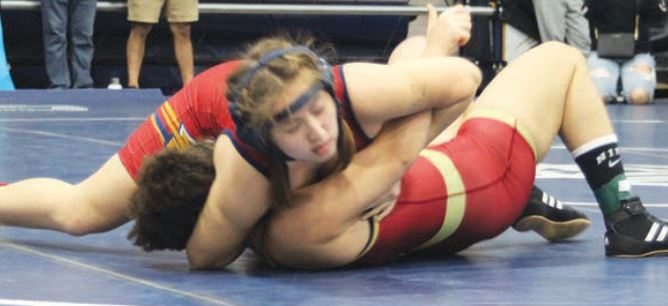 The Steele Canyon High School girls wrestling team had a great start to last Saturday's Division I San Diego Section championship tournament on campus. However, the Lady Cougars were overtaken in the later rounds by defending champion Olympian High School to place runner-up in this year's 27-team field.
The Lady Eagles finished with194 points while the Lady Cougars finished with 174 points. In tournament competition, that's close.
Steele Canyon finished the event with two weight class champions: Bella Sevillano at 103 pounds and Faith Manis at 191 pounds.
Granite Hills, which placed seventh in the Division I team standings with 83 points, notched one division champion: Kyli Stanley at 133 pounds.
"Twenty-seven teams 139 wrestlers, a lot of great wrestling," summed up Division I tournament director Trevor Keifer, who also coaches the Lady Cougars. "Overall, it was a good day of wrestling. The three Grossmont League teams that were there (Steele Canyon, Granite Hills and Grossmont in the Division I field) put wrestlers on the podium.
"The team race was close all day. Steele had the lead throughout the day, but Olympian climbed their way back to repeat as D1 team champions.
"I am so proud of how the Steele girls wrestled throughout the day. We came up short in a couple of semi-final matches that could have changed the outcome of the team race. Bella Sevillano's title was a great way to end her senior year, along with Faith Manis' back-to-back titles."