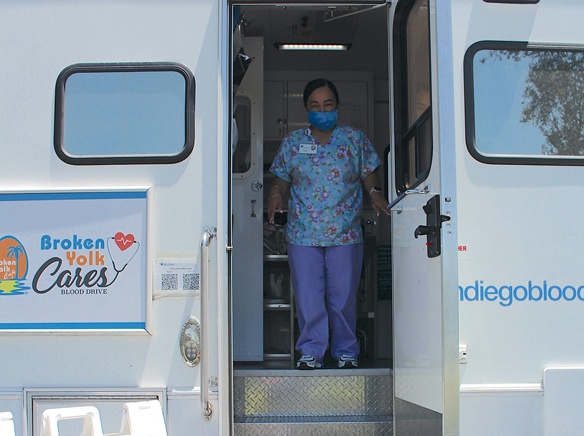 By noon on May 27, 15 donor appointment slots for a San Di­ego Blood Bank drive held at Barons Market had already been filled, although donor technician Karina Riley said there were still some same-day appointments available. The goal for the day was 24 donations.
Registered Nurse Kay Langit said that drives held in Alpine typically yield ready donors as the community is "very tight knit" and usually has a great turnout.
"The last time I was here it was over 100 degrees out, but we were holding a patient re­covery drive and despite the heat, so many people came out. We had ice p a c k s on the back of volunteers' necks and brush fires started later that day but everyone was so happy to come together and donate," Langit said.
This time, the temperature was cooler but the stream of volun­teers was just as dedicated. San Diego Blood Bank volunteers are already planning for the next two drives in Alpine: June 28 and Aug. 22 from noon to 5 p.m.
Anyone 17 and older who weighs at least 114 pounds and is in good health may be eligible to donate blood and can call (800) 469-7322 or visit www.sandiegob­loodbank.org for more informa­tion.