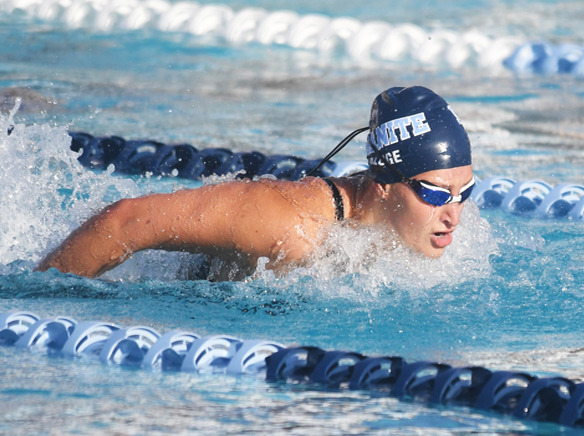 This year's Grossmont Hills League swim finals provided a prideful sendoff for seniors as well as a statement showing by underclassmen.
First-place finishers in each event earned first-team all league honors while second place finishers received second team all-league honors.
Along the way, three new meet records were set while there was one tie for first place as well as a bunch of touches separated by tenths or even hundredths of a second.
In other words, the April 29 meet at Granite Hills High School was as competitive as usual.
Pride and honor
All six schools in the league were represented on the starting platform. Four schools came away with at least one event champion while all six schools recorded at least one second place showing.
"It was a fun meet for the kids," Granite Hills coach Cathy Elgas summed up.
Granite Hills swept both the boys and girls Grossmont Hills League regular season dual meet titles and will receive championship banners to hang in the school's gymnasium.
The meet was for bragging rights, and there was a lot to brag about, especially for swimmers from Granite Hills, Valhalla and Helix high schools who combined for 22 individual event championships.
The Lady Eagles continued their dominance at the league finals by topping the field with 530.5 points, followed by runner- up Helix Charter with 402 points, third place Valhalla with 310.5 points, a fourth-place tie between West Hills and Grossmont with 237 points and sixth place Steele Canyon with 218 points.
Helix Charter repeated as the top team at the boys league finals by accumulating 478 points to out-pace runner-up Granite Hills (456.5 points) and third place Valhalla (330 points). Rounding out the field were Steele Canyon in fourth place with 290.5 points, Grossmont in fifth place with 244 points and West Hills in sixth place with 137 points.
Granite Hills sophomore Braden Felio fired the first salvo in the meet with a time of 1:42.48 in the boys 200-yard freestyle to eclipse the old record of 1:43.38 set by Steele Canyon alumnus Marco Russo in 2013. The time also broke a 34-year-old school record, according to Elgas.
Helix Charter junior Cameron Drake was the next to make history after recording a time of 4:42.77 to set a new meet record in the boys 500 freestyle event. The old record of 4:45.86 set by Helix grad Matt Buckley had stood since 1989.
"It feels amazing — I've never felt anything like this," said Drake, who finished with two gold medals (500 freestyle, 200 freestyle relay) and two bronze medals (200 medley relay, 400 freestyle relay) last Friday.
Besides Drake, Helix's victorious 200 freestyle relay team included sophomores Esequiel Antunez and Asher Eaton and junior Baxter Orvell. The Highlander quartet had to give it their all to record a scant 0.15-second win over a fast charging Valhalla team.
"The competition made it intense," Drake said.
Not to be outdone, the Granite Hills foursome of sophomores Brooke McCoy and Delaney Fry, senior Erin Kluge and junior Izzy Cox combined to post a new record time of 1:40.40 in the 200 freestyle relay (4×50). The quarter just slipped under the previous record of 1:40.42 set last year by West Hills. The new time is also a school record, Elgas said.
Besides the new meet records, league royalty included four double individual event winners — two each from Granite Hills and Valhalla.
Felio came out victorious in both the boys 200 freestyle (1:42.48) and 100 freestyle (47.55) while Granite Hills junior Aidan Keane won the boys 200 individual medley (1:58.75) and 100 backstroke (53.76).
"It's pretty fun — I want to keep doing this every year for league and keep getting better and better," said Felio, who won two gold medals as a freshman at last year's league finals.
Keane finished last Friday's meet with three gold medals (200 IM, 100 backstroke, 200 medley relay) and one silver medal (400 freestyle relay).
"It's fun, it feels great," Keane said. "I have a really good coach and really great teammates on my relays. I'm happy."
Valhalla junior Rachel Munch captured top honors in the girls 200 IM (2:08.20) and 100 breaststroke (1:08.22) while Valhalla senior Jack Forstot claimed bragging rights in the boys 50 freestyle (21.92) and 100 butterfly (53.85).
"The Norsemen had an excellent showing at his year's league finals," VHS coach Steena Harriman said.
"Overall, we achieved best times in 96 percent of our individual races. We had standout swims from sophomore Alexandra Schow in the 200 free and 500 free and sophomore Miles Boone in the 100 breaststroke.
"In addition, Jack Forstot, Rachel Munch, Tess Forstot, Alexander Golu and Eli Mohr all had races that made them league champions."
Munch repeated as the league champion in the girls 200 individual medley, though her winning time of 2:08.20 fell short of her meet record time of 2:07.76 set last year. Munch (1:08.22) also score a thrilling victory in the 100 breaststroke by out touching Helix senior Maya Garcia-Hale (1:08.30) by 0.08 second in a race that was hotly contested from start to finish.
Munch finished second at last year's 100 breaststroke finals with a school record time of 1:07.24.
She left this year's finals laden with two gold medals (200 IM, 100 breaststroke) and two silver medals (200 medley relay, 400 freestyle relay).
"I feel really good," the VHS junior said. "I'm really happy with my breaststroke time; that's exactly where I want to be. It's been fun cheering on my teammates."
Jack Forstot finished the meet with three gold medals (50 freestyle, 100 butterfly and 400 freestyle relay) and one silver medal (200 freestyle relay).
He out-touched Steele Canyon's Nikola Petakovich in the 50 freestyle by 0.69 second and defending 100 butterfly champion Patrick Reynolds of Grossmont by 0.09 second in a strokefor- stroke duel.
"It was pretty special, this is my best performance in my career," said Forstot, who will attend Colby College in Waterville, Maine. "This is the most fun I've had in swimming. I wouldn't give it away. For all the hard work I've put in, I'm really glad to have this moment."
In a dramatic finish, Tess Forstot tied for first place in the girls 100 backstroke with Granite Hills senior Erin Kluge with identical times of 59.44.
Golu won the boys 100 breaststroke in 1:01.63 while Mohr was a member of the Norsemen's victorious 400 freestyle relay (3:20.47) along with Tyler Piscopo, Golu and Jack Forstot.
Schow placed fifth in the girls 500 freestyle (5:35.44) and sixth in the 200 freestyle (2:04.59) while Boone finished runner up in the boys 100 breaststroke (1:05.89) and fourth in the 500 freestyle (5:12.90).
Granite Hills notched seven individual first-place finishes between the two gender fields — four events on the boys side (Felio and Keane in two events each) and three events on the girls side (Kluge with two and Cox with one).
Kluge (57.32) edged Tess Forstot (1:01.11) in the 100 butterfly after finishing runner-up in the event last year.
Cox won the girls 100 freestyle in 53.93 to repeat as a league champion while placing second behind Munch in the 200 IM in 2:11.05.
Cox, McCoy, Kluge and Fry combined to win the meet-opening 200 medley relay in 1:50.35.