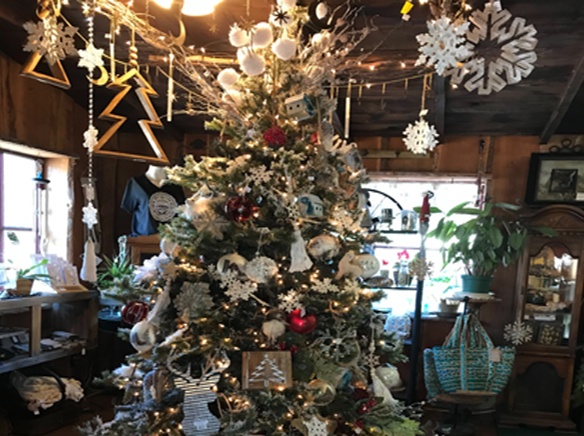 More than just a nursery, Alpine Garden and Gifts offers vintage gifts, classes, home decorat­ing and floral designs on nearly an acre of land. The day after Thanksgiving it brought in its Christmas tree selection to start the holiday season. Heading into its ninth year of operation, owner Kathy Matranga, who owns the country boutique with her husband Mario, said about vis­iting Alpine Garden, it is not only a destination for plants.
"You can always find a friendly ambiance here," she said. "A lot of people come here because you can get a great little gift for $10. It is a great place to come for a down-home country-Christmas feel. My mom bakes little Christmas tree cookies for the kids. They get to come in and decorate a cook­ie, have a cup of hot cocoa and pick out their tree like they would have done years ago instead of buying a bundled one at Costco. Here you get to look for your own tree."
This mom and pop shop focuses on vintage, antique and repurposed items. With nearly 16 vendors on the premises, Matranga said its local artisans are great for finding that one-of-a-kind handmade gift.
Matranga said she has decorated seven homes so far for the holidays and has seven more to go. Along with providing services for decorating homes, Matranga said classes are popular. She just finished a class for the local Kiwanis Club, planting succulents in a pumpkin.
"I will be doing a wreath making and garland class," she said. "You come in and we set you up in your own space. The beauty to our little shop is we are on almost an acre of land. People have an open, free feeling, not in a confined space. Ev­eryone can walk around and shop and keep their social distance."
Matranga said Alpine Garden has been "very fortunate" through the COVID-19 pandemic.
"Because we are a nursery, we sold vegetable plants, so we were considered essential and al­lowed to stay open. It was the best therapy for people to dig in the ground and just enjoy them­selves," she said.
Alpine Garden partners with a small family Christmas tree farm in Mt. Angel, Oregon, each year, selling 5- to 9-foot trees.
"They are beautiful, beautiful trees and our prices our comparable with Home Depot," she said. "I tell people they are far fresher trees. They were just cut days before they came down. We carry noble and Nordmann trees, I am a tree snob."
Visit www.alpinegardenandgifts.com for hours, services and events.