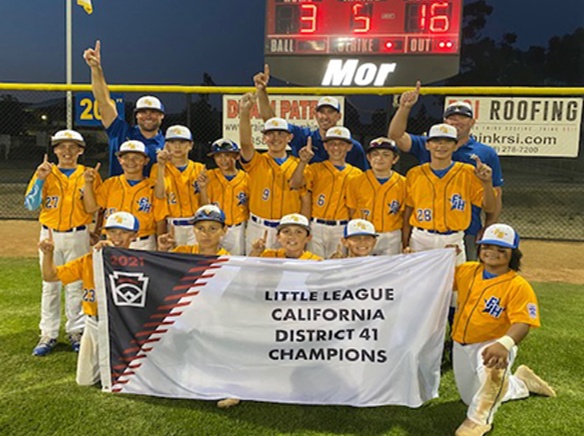 The Fletcher Hills Little League 12U all-star team will not be making a trip to the Little League World Series in South Williamsport, Pa. this year. But the California District 41 champions still had a good run.
The East County locals came up short in section play this past week after starting the long road to Williamsport by winning the district championship.
Fletcher Hills manager Jesse Brierley said togetherness brought continuity — and success — to this year's 12U all-star squad, which finished with an overall 8-2 record this summer.
"I have had the pleasure of coaching these kids from when they were 8 years old in Little Stars," Brierley said. "Eleven of the 13 players we had on our team this year was on that team, so we have had this group together for some time now.
"Going into the year I was very excited for the opportunity to coach these kids once again knowing the talent that we had. From the first day of practice our kids were eager and motivated to bring a district banner back to Fletcher Hills, as it had not been accomplished since 2016.
"Going into our first district game our kids were a little too amped up, falling behind by two runs early but soon settled in, and never looked back."
RUN TO THE FINALS
Fletcher Hills started its allstars odyssey by defeating Singing Hills Little League, 16-3, to
capture the District 41 title.
Fletcher Hills finished 3-0 in pool play against El Cajon National (8-1 win), Rios Canyon (7- 0 win) and Lakeside National (7-1 win).
Fletcher Hills advanced to bracket play alongside five other teams: Alpine American (2-0 in pool play), Lakeside National (2- 1 in pool play), West Hills (1-1 in pool play), Singing Hills (1-1 in pool play) and Rancho de Oro (1-1 in pool play).
Fletcher Hills won its opening two games in the winners bracket — 12-0 over Rancho de Oro and 7-2 over Singing Hills — to advance to the championship game.
Lakeside National (4-1 over West Hills) and Rancho de Oro (9-6 over Alpine American) also started bracket play with victories while Singing Hills defeated Lakeside National, 5-1, in the winners bracket semifinals.
In elimination games, Alpine American defeated Lakeside National, 5-3, while West Hills defeated Rancho de Oro, 8-2. That left four teams remaining in the tournament.
West Hills eliminated Alpine American, 6-5, and Singing Hills rallied to make it to the championship game after defeating West Hills, 5-4.
Fletcher Hills extended its all-star record to 6-0 with the 13-run win over Singing Hills in the championship game.
The district title marked the first time that Fletcher Hills had advanced to the section tournament since 2018.
"We rattled off six wins in a row to take the title, and never trailed in a game since the first inning of our first game," the Fletcher Hills manager said. "With great pitching from Tyler Holmes, Caleb Brierley and Dillon Lockwood, we held opponents to very few runs."
The four-team sectional tournament, hosted by El Centro Little League, featured champions from District 41 (Fletcher Hills), District 66 (Spring Valley), District 42 (Eastlake) and District 22 (Holtville).
Competition proved more challenging.
Tournament play began July 17 with two games: Eastlake shut out Spring Valley, 12-0, while Fletcher Hills downed Holtville, 13-2.
Two more games followed on July 18: Eastlake defeated Fletcher Hills, 5-0, in the winners bracket game while Spring Valley topped Holtville, 10-0, in an elimination game to leave three teams still vying for the championship title. With the remaining teams all from San Diego County, the final two games were moved to the Fletcher Hills Little League field.
The list was down to just two teams after Fletcher Hills defeated Spring Valley, 14-5, in an elimination game on July 19.
Eastlake, which had breezed through district play with a prodigious 33-1 run-differential, wasted no time in getting the jump on its opponent in the section championship game by scoring four runs in the first inning.
Logan Struck and A. J. Hooker scored runs for the District 41 champions in the 8-2 setback.
"Moving into sectionals our boys knew what we were up against a monster in Districts
42's Eastlake Little League team, which had outscored their 33-1 going into sectionals," the
elder Brierley said. "This being said our first game was against Holtville which we jumped out on early and brought home the victory.
"Our next game was against Eastlake, which we were really looking forward to playing. Tyler Holmes pitched an absolute gem for us, but due to some base-running mistakes, and a couple of errors in the field, we fell short. Our next game was against Spring Valley, and we were definitely showing some signs of fatigue, allowing three runs in the first, on a few walks and some timely hits. We then made a pitching change, and Logan Struck gave us the spark we needed to hold them the rest of the game as our bats came alive scoring 13 runs.
"Going into our final game against Eastlake we knew we would have to play a mistake free game, which is not what we did giving up four runs in the first on three errors. We fought hard, but again fell short.
"I am really looking forward to seeing these boys continue to grow, and develop their skills, as I am sure we will see most of these kids playing at the high school level competing for a CIF championship."