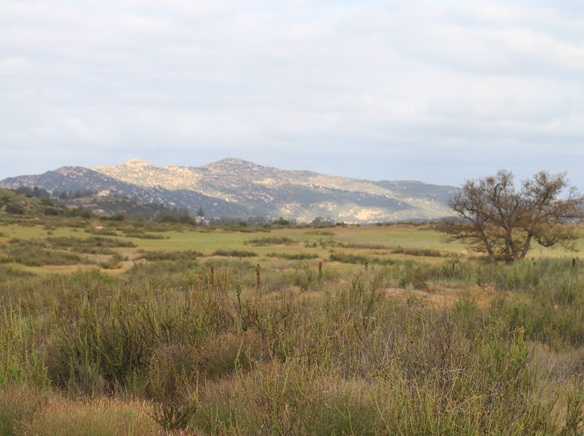 The Back Country Land Trust has gathered a team of experts to embark on a Wildlife Documentary Project cataloguing all the plants and animals who call Wright's Field home, an endeavor Program and Outreach Director Jon Green said was last completed in 2011.
Wright's Field, a 245-acre nature reserve was purchased in 1995 by Back Country Land Trust.
"What makes this project super cool is this team of volunteers that are highly specialized," Green said.
Joe Kuhn, who recently retired from the San Diego Zoo after a career in avian wildlife "knows every bird that is out there and when he got involved, I thought: 'we have a really good opportunity here'," Green said.
Within two weeks of coming on as a volunteer, Green said, Kuhn had put out new bird boxes that garnered new nests with eggs.
"Joe has years of experience in bird identification as well as bird behavior, nesting seasons and habitats," Green said and his expertise is key to this project.
"We're also working with Rick Botta from the San Diego Tracking Team, who has been involved with wildlife tracking for over 20 years. The tracking team is also a non-profit and what's really great is they have their own trail cameras they're installing to keep track of what's out there— they are really driving this project," Green said.
Additionally, he said, two recent college graduates looking to build skills in environmentalism and ecology were brought onto the team as wildlife interns: Kuhn's son Rudy Kuhn and Ryan Krantz, both from Alpine and already familiar with Wright's Field.
"It's really fantastic to have them. They do so many practical things with photo skills and camera work but also, there's a continuity of mentorship as well that involves the future of the land trust, bring­ing this younger generation in to learn," Green said.
With that concept of stewardship in mind, Green said this project is being completed for two reasons: to measure progress in managing and restoring the natural habitat; and to guide management priori­ties in the immediate and distant future.
"When the land trust was first acquired, one of the baseline doc­umentations was to put together a full list of wildlife inventory so we knew what was there at the time. That was done in 2011 and we know there are some additions of species that have come back as well as some extractions because we've done work to eradicate inva­sive species," Green said.
For example, he said, there were no deer documented in 2011 but at least one deer currently lives at Wright's Field, a change that happened sometime in the last de­cade. The 2011 study serves as a baseline from which the trust can improve ecological outcomes for future generations.
"We also have an owl that sort of inspired the whole project because owls are awesome but we know we didn't have an owl out there in 2011.
This becomes more crucial when we're talking about endan­gered species and feeds directly into how we guide our manage­ment priorities and decide what we need to do this year or what proj­ects are needed down the road," Green said.
On a side note, Green said, the trust completes a trail assess­ment every five years that is sepa­rate from this project as the trails change more rapidly than the wild­life composition at Wright's Field.
"We've already started on the Wildlife Documentary Project," Green said, and depending on whether a current $2,500 fundrais­er hits the stretch goal of $3,000, the team might purchase a third trail camera to capture more docu­mentation.
"We'll carry on with the docu­mentation through September and catalog all the species inventory into 2022, then carry that onward into future plans. For example, we may decide to make it more entic­ing for the burrowing owls to stay," Green said.
It is important, Green said, to recognize this is a community-owned nature preserve.
"I purposely made the fundraiser goal modest because it's what I feel we can realistically achieve and still have impactful results. The only way we maintain the current con­dition of Wright's Field is through public support and it takes a vil­lage to make sure it stays in good condition. But, my mentor embed­ded in me the idea that we have to start teaching stewardship early, you know it starts in third, fourth grade," Green said.
Part of his job and the reason for the Wildlife Documentary Project happening at all, he said is to line up stewardship of the land.
"You know, we have to ask: who's going to take care of the land?" Green said.
CORRECTION: A previous version of this story incorrectly stated the size and date of purchase of Wright's Field. It was also stated Joe Kuhn retired from the San Diego Zoo after a year in avian wildlife.
Wright's Field, a 245-acre nature reserve, was purchased in 1995 by Back Country Land Trust.
Joe Kuhn retired from the San Diego Zoo after a career in avian wildlife.
The Alpine Sun regrets the errors.