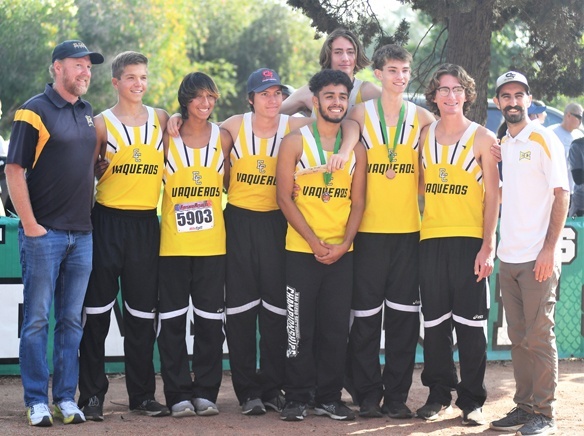 The El Capitan High School boys cross country team has managed to bridge the COVID- 19 pandemic with back-to-back state qualifying berths in a show of resilience and determination.
The Vaqueros finished second at the 2019 San Diego Section championship meet to earn a state berth as one of three qualifying teams in the division.
El Capitan posted a third place finish as the section finals resumed last Saturday at Balboa Park's Morley Field. The Vaqueros and Cathedral Catholic both finished with 110 points, well behind team champion Hilltop's 95 points. The Lakeside team was officially awarded third place on the sixth-man tiebreaker.
But nothing was a given, according to El Capitan coach Tyler Ludwig.
"We knew we had the chance to be in the top three if we ran well," Ludwig said. "To lose in the tiebreaker might seem a little disappointing but we accomplished our goal to make the state meet as a team.
"At the start of the season, we weren't expecting a big push. We've been steadily improving. We had a couple kids out with COVID. It took a lot of time for their lungs to return to 100 percent capacity. They came through for us at the right time."
Teams can enter seven runners in a championship race with the top five place-finishers scoring points by order of finish. The team with the lowest score wins.
Hilltop, in winning its first division title since 1984, finished 2-7-18-30-42-51-75 in the 113-deep race. Cathedral Catholic's numerical tally included 4-9-26-34-41-53-84 among individual place-finishes.
El Capitan's seven runners finished 12-16-22-25-39-62-65. The Vaqueros' five-man spread was 58 seconds with the team's top three scorers finishing within 30 seconds of each other.
The top 20 place-finishers in the race received medals.
Senior Dominic Villarruel led El Capitan across the finish line with a time of 16:07.6 for the three-mile distance. Sophomore Austin Boinus was next in 16:23.1, followed by junior Trey Dixon in 16:37.9 and senior Logan Powers in 16:43.5.
Junior Elias Rudolph finished as the Vaqueros' fifth scorer with a time of 17:05.8.
Cathedral Catholic's fifth scorer, senior Liam Walsh, finished 34th in 17:00.00.
El Capitan finished six seconds out of second place in the team standings.