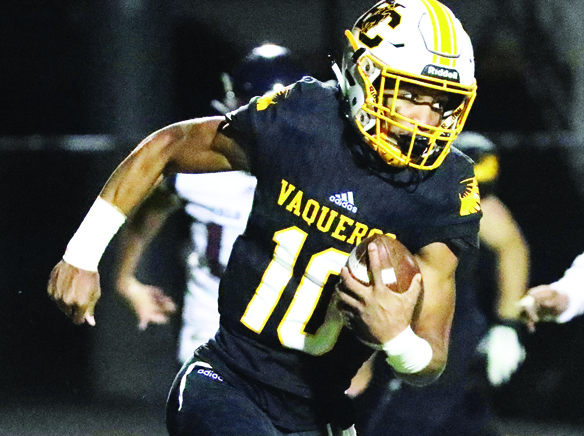 This year's Grossmont Valley League contest between the host El Capitan Vaqueros and West Hills Wolf Pack packed quite a punch into one game, which saw the teams renew their rivalry for the Tony Burner Memorial Tro­phy.
The trophy is named in memory of Tony Burner, the son of veteran El Capitan coach Ron Burner who played quarterback at West Hills High School and later coached with his father at the Lakeside school. The younger Burner passed away in June 2017, which led to the establishment of the trophy between the two football programs.
The elder Burner also coached at West Hills, making the rivalry connection even stronger.
El Capitan now leads the series 2-1 following a 27-14 win over West Hills on April 2.
The emotional win was made doubly so as it also counted as the first victory of the season for the host team following a 0-3 start.
"As far as the game and what it meant, what I can say is I couldn't be any prouder of how hard my kids played," Ron Burner said. "It may have meant as much to them as it did to me by the way they acted and played.
"Not only did they go over and above before and during the game but after the game the love they showed me and how they felt about the win with something that left me very humbled and at the same time sad. My son Tony would've been so proud of how they played in the emotion they showed all the way until the end of the game. It's great to have the cup back at El Cap again."
The Wolf Pack won last season's trophy contest on the last play of the game, so the ending of this year's contest was quite fitting.
West Hills led, 14-7, before El Capitan engineered a comeback with 20 unanswered points.
Savigon Yokley scored on a zig­zag 27-yard run to tie the score, 14-14, in the fourth quarter. The Vaqueros later recovered a fum­ble, which led to a 10-yard scoring run by Dausean Desinor.
Yokley capped the scoring on a quarterback sneak to secure the victory.
West Hills junior quarterback Braden Oberg competed 10 of 25 passing attempts for 153 yards with one touchdown and one in­terception while rushing for one score. Junior Dylan Snyder, who caught the 40-yard touchdown pass, finished the game with seven receptions for 111 yards.
Junior Evin Patterson keyed the Wolf Pack defense with two sacks.