With teams playing an uneven number of games because of postponements or cancellations from COVID-19 protocols, it will be interesting to see what criteria conference and section administrators come up with to determine league champions and playoff qualifiers for the current high school football season.
Grossmont Valley League teams are affected two-fold.
Santana and Mount Miguel's scheduled Sept. 24 game was postponed for health reasons. Mount Miguel also had one other game canceled for similar reasons and likely will not play a full 10-game schedule. The Matadors, in fact, could play as few as eight games in the regular season.
Unless Santana and Mount Miguel find a way to make up the postponement, the Sultans and Matadors will play one less game than their league foes, which could affect championship fortunes if the current league co-leaders – El Capitan and West Hills – should drop a game over the balance of the season.
Heading into this Friday's spate of games. West Hills is 3-0 in league play, 7-0 overall, while El Capitan is also 3-0 in league play, 6-1 overall. Santana is 2-1 in league play, 6-1 overall. Mount Miguel is 1-2 in league play, 2-3 overall, while Valhalla is 1-2 in league play, 2-5 overall.
El Cajon Valley is 1-3 in league play, 2-6 overall, while Monte Vista brings up the rear in the league standings at 0-3, 0-7.
In games last Friday, West Hills defeated host El Cajon Valley, 49-14, to keep its undefeated season intact while El Capitan topped host Mount Miguel, 35-28. Santana returned to the win column following a 35-0 loss at El Capitan with a 20-7 win over visiting Monte Vista.
Santana, West Hills and El Capitan are all vying for home field advantage in the upcoming Division III playoffs. Santana currently leads the East County trio in the Division III power rankings at No. 4 while West Hills is No. 6 and El Capitan is No. 7.
Games are getting tougher to win as the season races to a close.
"It was a tough game all the way as the Matadors were a tough opponent," El Capitan head coach Ron Burner said in regard to last Friday's comeback win at Mount Miguel. "They play very hard and physical. They were well prepared and fought all game long. They were probably our toughest opponent all year long in terms of a physical game.
"It was good for us to have all our starters go four full quarters as hard as they did. We haven't done that in a while."
The visiting Vaqueros had to play hard in overcoming a one touchdown deficit early in the first half. The Matadors had to play hard as they entered the game with a 1-1 league record with a chance to throw their hat in the championship ring with an upset victory.
El Capitan senior signal caller Savigon Yokley collected 248 yards in offense in leading the Vaqueros to last Friday's win. He rushed for 174 yards and scored two touchdowns and passed for 74 yards with one score. He also tacked on 35 yards in punt returns.
As a team, El Capitan racked up 387 offensive yards.
Junior Angel Diaz had 15 carries for 89 yards and scored one touchdown while senior Xavier Peace rushed six times for 80 yards and scored once.
Yokley passed for one touchdown to his twin brother Antwone (four catches, 68 yards). Antwone Yokley also had one interception on defense.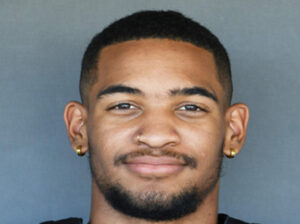 Senior Colton Dietrich added three kicking points.
"We had Xavier Peace return from a game two injury, accounting for 80 yards on the ground and seven tackles," Burner said. "Angel Diaz was a beast on offense and defense."
El Capitan's championship fortunes will be determined in its final three regular season games: Oct. 15 against visiting Valhalla, Oct. 22 at home against Monte Vista and Oct 29 at West Hills.