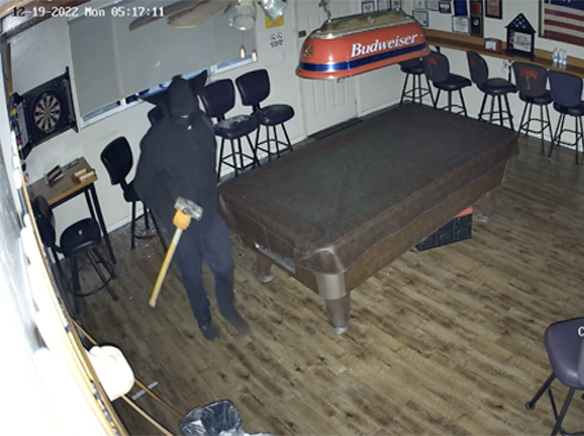 Burglars struck the Alpine VFW post in the early morning hours of Dec. 19, and managed to make off with an entire automated teller machine as well as all the money from the canteen register.
Alpine VFW Commander John Sullivan said post staff has heard rumors of other recent East county break-ins so they have been "on alert" and extra cautious.
Recently, he said, the post had upgraded their security camera system. "I have access to the camera on my phone, checked it between 3 and 3:30 in the morning and didn't see anything so I got ready to go to work. Apparently, they broke in like seven minutes after I looked at the cameras," Sullivan said.
Video footage indicates there were three people involved in the burglary: two men and a female getaway driver.
"Watching the camera footage, they broke in through the window of the pool room, then waited 15 minutes outside while the driver took off down to the end of the road, possibly looking to make sure the sheriff didn't show up, then reappeared," Sullivan said.
Although he cannot be sure, Sullivan said he thinks the thieves were familiar with the ATM because a similar burglary took place at Casino Inn, the Ramona VFW and the Poway VFW, with identical machines stolen from all the locations.
"The crazy thing is before they left, they gently rolled up the blinds and didn't take any of the money we've been fundraising on the bar for one of our veterans suffering from cancer. There are two donation jars by where they were working and they didn't take any of that," Sullivan said.
Sullivan also said he noticed the thieves chose to break in through the window with easiest access to the ATM, and knew where the cash drop box is hidden by boxes behind the bar, aware of what they would need to move for access.
"You know, I was on my way home on Sunday night and usually, if I'm out late, I'll stop by the VFW and do one loop around the lot to make sure we don't have any transients hanging out doing what they shouldn't be doing. I had that gut feeling: the night had perfect weather, everything was lit up, something didn't feel right and I had a hard time sleeping," Sullivan said.
In addition to being short about $1,700 in stolen cash, Sullivan said the VFW is also going to have to pay for window repair, estimated at several thousand dollars.
"We're trying to stay positive because we have veterans with health issues. We're in the middle of planning a benefit dinner for a veteran with a third round of cancer, trying to do things for the holidays— some of these post veterans have already been through the ringer and the post is supposed to be their safe place," Sullivan said.