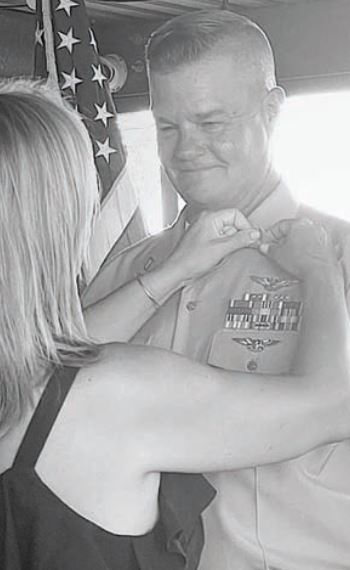 Alpine resident Richard Simmons, who began his Naval career as a newly enlisted recruit, was promoted to lieutenant commander at the Alpine Veterans of Foreign Wars post where he serves as Junior Vice Commander. He has a few things to say about leadership, service and the community.
"It's not just about serving military families but also serving the community, whether we're serving homeless or gathering backpacks for kids. We recently had a pancake breakfast at Shadow Hills and going into the community, it brings people together who might not ever talk to each other otherwise," Simmons, who is also a Kiwanian said.
"The VFW— a lot of us who are veterans and active duty, you know, we've seen things and done things we can only talk about with people who understand. Today's veterans might not have had it as rough as Vietnam or WWII but this is a fraternity. We're trying not to turn it into a place for old guys. It's a place for everyone," Simmons said.
He didn't plan to end up here but decided to enlist in the Navy at 25 to get out of Pensacola, Florida.
"I ended up in Jacksonville, Florida, made Third Class my first time up for promotion, had been transferred and was going to get out. Then September 11 happened. I reenlisted and after I got back to (Jacksonville), I became a survival instructor, then made chief at LeMoore," Simmons said.
Although being a Naval officer wasn't in his original plan as much as "join the Navy, get some money for school," one thing led to another, he said and he now works at Fleet Readiness Center Southwest on North Island.
"Being in a leadership position, we get a bunch of new recruits who come here and we have a chance to mold them, to be something, mentor them and keep them from going down the wrong path. Some of these people never had any guidance, their home life was terrible, we try to mold them to be productive," Simmons said.
As new recruits, they "can get a fresh start, learn to be a good leader in their own right" with a dose of humility. It is important, he said, to give the same respect to an Airman as to an Admiral.
His advice to anyone thinking about joining?
"Join the Air Force," he said, laughing.
Simmons said young recruits need to be willing to learn and understand they are going to meet people they might otherwise never encounter and that military service will forever change them.
A previous version of this story erroneously identified Richard Simmons as a Navy lieutenant. He is a lieutenant commander. The Alpine Sun regrets the error.