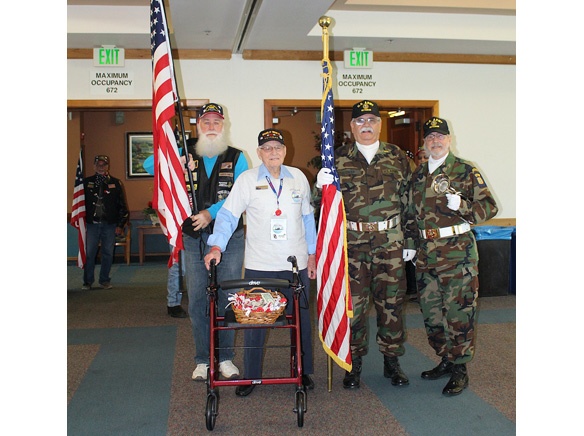 It took at least 15 minutes for Dan Foster and attendees to fall into the Wall of Honor event on Saturday; there was joking and laughing and a slight uncertainty in the air, partially due to the limited attendance and par­tially because the event, the first of its kind since 2019, marked a hesitant return to familiarity for many of the participants.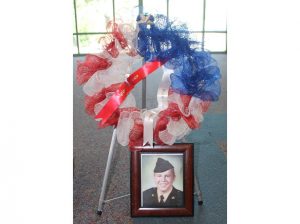 The Alpine Veterans of Foreign Wars Post 9578 Quartermaster Carl Silva presented colors for the day alongside Chaplain Theo Bazdorf who played Taps, the bugle tattoo typically heard at nightfall and mili­tary funerals.
Although Peter Hastings took the podium to sing the national anthem as he has in year's past, attendees joined in this year for a somber chorus of voices.
"Things have been tough for all of us," Foster said, then informed the room that the Patriot Guard Riders, a group whose members attend the funerals of members of the U.S. mili­tary and first responders have gone to more than 600 funerals this year.
"These are the most patriotic peo­ple I've ever met," Foster said.
After bantering with World War II Veteran Bill Ridenour, who moved the room to laughter by repeatedly taking the microphone for yet another one-liner, Foster walked to the podium.
"Well… since I can't find my notes, I'll have to shoot from my heart," Fos­ter said.
He glanced over the room of about 100 people and told a story of being at war that he had never revealed, layer­ing details known only to him on top of emotions several in the room rec­ognized from their own experiences: getting to know someone as a best friend in-country only to lose them in combat.
"I'd never lost a life and then it got worse," Foster said, describing the logistics of recovery efforts in Army terms and vivid memories.
"The upcoming holiday is some­thing other than a day for a barbecue or a day off because there are so ma­ny who didn't make it back. Memorial Day is about remembering the ones who stepped up so we can be here today to say thank you," Foster said .
The Wall of Honor, he said, is a passion that needs to carry on after he is gone.
"I'm not done yet, but I will be soon," Foster said, then gave a final salute to the framed photo of his de­ceased friend before he began read­ing off the newest names added to the wall.
A framed version of the commem­oration was given to those service members who were there to receive the honors while the Patriot Guard stood at attention and the official song for each branch of the military was played.
Family members accepted for several of the honorees and Alpine Fire Captain Greg O'Gorman re­ceived extra applause from locals for his military efforts in Afghani­stan.
"You know," Silva said into the microphone after the framed cer­tificates had been handed out, "I've had the opportunity to watch a man work really hard. Thank you for all you do, Dan and all you will contin­ue to be able to do. I think you're go­ing to be around for quite awhile."
Everyone able to do so stood for one final prayer, hats removed and heads bowed.
Wrapping up the ceremony, Foster issued the same passionate words repeat attendees recognized as the blessing he gives at the end of every Wall of Honor event: "God bless each and every one of you and God bless the United States of America".