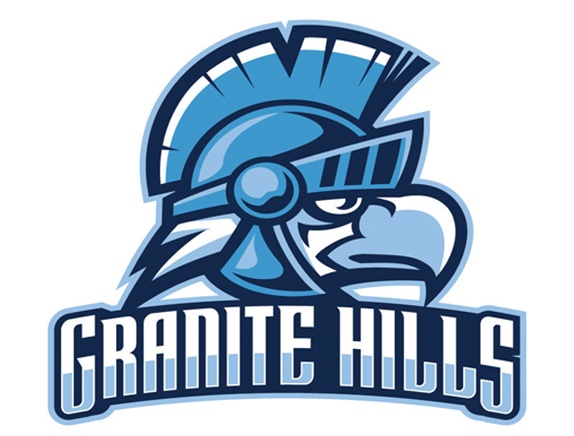 Granite Hills High School's football team kicked off its season with a 56-7 non-league win at neighborhood rival Valhalla High School on Saturday, March 13.
The Eagles soared in the game with 434 yards in total offense — 241 rushing yards and 193 passing yards — in claiming the win.
Granite Hills head coach Kellan Cobbs called the season opening victory a "good first win" for his team.
"The offense really played well for it being the first time out," Cobbs said. "The defense played well at times. We had a few missed tackles but that was to be expected with having so much time off and then only getting two weeks of prep. We're looking forward to getting a shot at El Capitan this week."
Granite Hills exhibited a balanced offense with four rushing touchdowns and four receiving touchdowns.
Sophomore Joaquin Thomas led Granite Hills with 218 all-pur­pose yards, including 160 rushing yards. He racked up four touch­downs in the game — three rushing touchdowns and one receiving touchdown — to highlight a standout individual performance. He ripped off long scoring runs of 60 and 64 yards after joining Granite Hills as a transfer from Helix.
Senior quarterback Justus McComb completed nine of 12 pass­ing attempts for 118 yards with three touchdowns and rushed for an additional score to post a top-notch 145.1 quarterback efficiency rating in the game.
Sophomore Domanico Tomasello was three-for-three for 75 yards and one touchdown.
The Eagles led 42-7 at halftime, with the second half played with a running clock.
Senior Matt Keeley led Gran­ite Hills with four catches for 69 yards while junior Logan Heesch caught a 33-yard touch­down pass. Senior Angel Alma­zon caught a 23-yard scoring pass while senior Wyatt Hen­derson (two catches, 16 yards) also reeled in one touchdown pass.
Junior Carter Braun and freshman Jordan Glaze both re­corded five tackles to lead the Eagles defense. Glaze had one sack while juniors Zach Burton and Brandon Kleist both shared one sack.
Sophomore Easton Peterson had one interception while se­niors Andy Lowry and Michael Wallace both had fumble recov­eries.
Senior Gavin Armstrong was five-for-five on point-after-touchdown conversions while senior Camden Vance was three-for-three in PAT conversions.
Valhalla collected 121 passing yards and 92 rushing yards in the season opening setback.
Marsalis Childs topped Norse­men receivers with 81 yards on three catches, including one touchdown.