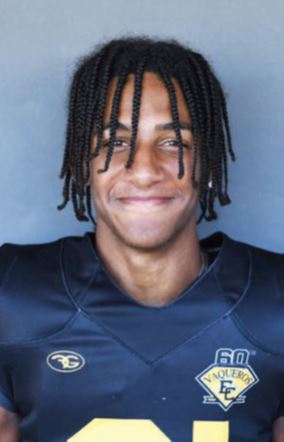 It's right there at the end of the regular season schedule: Oct. 29, El Capitan at West Hills.
It's potentially a made-for-prime time Grossmont Valley League championship game if the Vaqueros and Wolf Pack can successfully navigate past this Friday's opponents.
El Capitan (4-0 in league, 7-1 overall) hosts winless Monte Vista (0-4, 0-8) while West Hills (4-0, 8-0) hosts city rival Santana (2-1, 6-1) in the teams' annual Mayors Cup rivalry game.
El Capitan raced past visiting Valhalla, 42-7, last Friday while West Hills remained undefeated on the season with a 41-6 win at Monte Vista.
"The kids have continued to improve each week," Wolf Pack head coach Casey Ash said about his team's ability to keep its unbeaten streak intact.
West Hills players have issued the challenge by continuing to come out firing on all cylinders each week.
The Wolf Pack compiled 396 yards in offense while collecting two interceptions (senior Cohen Benavente and junior Michael Forzano) on defense.
West Hills sophomore quarterback Collin Dill scored on two rushing touchdowns while senior signal-caller Braden Oberg completed five of seven passing attempts for 183 yards and one touchdown. Oberg rushed for 11 yards to finish with a 153.3 quarterback rating.
The Wolf Pack scored five touchdowns in the win over the Monarchs, including one rushing touchdown by senior Nathaniel Greene (four carries, 67 yards) and receiving touchdowns by senior Jake Partington (one catch, 85 yards) and senior Dylan Snyder (three catches, 55 yards).
Santana did not play last week due to a bye and will need a win on Friday to have any chance of either winning outright or capturing a share of this year's league title.
The three front-runners are grouped tightly in the San Diego Section power rankings. Santana is fifth while El Capitan has moved up to sixth and West Hills is eighth. Less than a rankings point separates the three rivals.
El Capitan 42, Valhalla 7
The host Vaqueros wasted little time in assuming command with a 32-7 halftime lead. Senior twins Savigon and Antwone Yokley combined for five touchdowns — three rushing scores by Savi (241 total offensive yards) and two receiving touchdowns by Antwone (three catches, 35 yards).
"Overall, it was a great team effort with the defense doing a great job," El Capitan head coach Ron Burner said. "As usual Savigon Yokley led the way with 164 yards rushing and five TD overall. Julian May led the team with 11 tackles.
"We have an always tough Monte Vista team this week with a season finale against undefeated West Hills for a possible league title and the Tony Burner Memorial Trophy."
Senior Daisean Desinor had 80 rushing yards and one touchdown while collecting 107 allpurpose yards with an additional 27 receiving yards. May had one catch for 33 yards on offense while Savi Yokley had two catches for 31 yards.
The Vaqs had three sacks (sophomore Justin Cantrell, junior Chad Allread and senior William Butz) and one forced fumble (May) on defense to go with six pass deflections.
Senior Colton Dietrich kicked a 38-yard field goal.