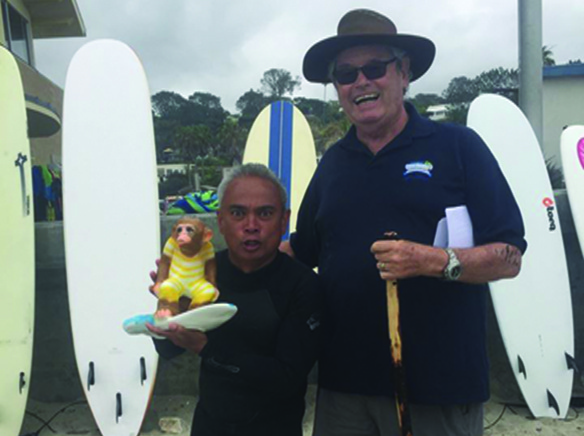 Retired San Diego Police Capt. Ran­dy Nisleit estimates that he's given away between 150-200 surfboards since he started volunteering with the surf clinic at Naval Medical Center San Di­ego about 10 years ago.
The longtime Alpine resident says it all started when he and his wife went to a lecture on battlefield medicine. While there, he listened as a man said he'd lost his leg to an improvised explosive de­vice and was getting impatient waiting for the Navy to supply a water leg that would allow him to get back to swim­ming.
Following that, Nisleit says he went to the surf clinic at the medical center and immediately recognized the poten­tial effect it could have on so many peo­ple. Over the decade since first getting involved with the clinic, he has come to rely on the local surfing community to help him support veterans and their families as they navigate their way into or back in the water.
"I've really relied on people in the surf industry who are full of Aloha spirit. So many people have gone out of their way for me when I tell them what I'm do­ing… I went in to Bird's Surf Shed to see if I could get a short board for an injured kid who grew up in the islands, he needed to get back in the wa­ter. I described what I was look­ing for and why, and Bird walked over and pulled out a board with a $190 price tag on it. I figured if I could get it for $100, maybe $150 I'd be good. He told me to take it for free," Nisleit said.
A longtime surfer, 79-year old Nisleit quickly took to repairing damaged boards that could be used by first-timers or anyone wanting to borrow a board.
"I learned a lot about surfboard repair from Roper's repair shop in Kearny Mesa and from Eric "Bird" Hoffman. Bird has a WWII quonset hut with all sorts of boards, new, used, some needing repair. He's taught me so much about board repair over the years and probably given me 30 surf­boards that needed work of some kind…"
"My theory now is if I have to buy a board, I won't buy it unless I get a heck of a good deal so I can fix it up and pass it on to a veteran. I've probably given away 150-200 boards over the past 10 years. None are cherry but I've fixed them up and passed them on," Nisleit said.
Now, he keeps an eye out for people with unused surf­boards stashed away that he can rehabilitate and pass along to someone at the surf clinic.
Nisleit says it is fulfilling to watch veterans turn up at the clinic, especially those he gets to watch heal.
"So many of the veterans I've met start out looking over their shoulders and over a pe­riod of time they change… The ocean has curative possibili­ties— the power of the ocean lifts you and makes you feel better. I've seen it take young guys, kids really, who've had the worst luck come out of the Naval hospital and it brings back their smile," Nisleit said.
"There were two guys that I watched for about six months to a year or so: both combat wounded, both withdrawn, an­gry young men who had lost a lot of their physical ability. One I hadn't seen for probably six months and all of a sudden, I saw him one day standing at the back of the surf clinic. He was holding his new baby and he was warm, friendly, just watching the ocean— a whole new person."
In a lighter moment, Nisleit practically giggles when asked about the surf monkeys he gives out to surfers. He explains the local Surf Mon­key Fellowship grew out of the Tijuana border crossing. Although he originally used to purchase them in Tijuana, he now picks up the surfing monkey statuettes at a local surf shop and gives them out to volunteers, surfers, and anyone he thinks deserves an award for their work with the surf clinic.