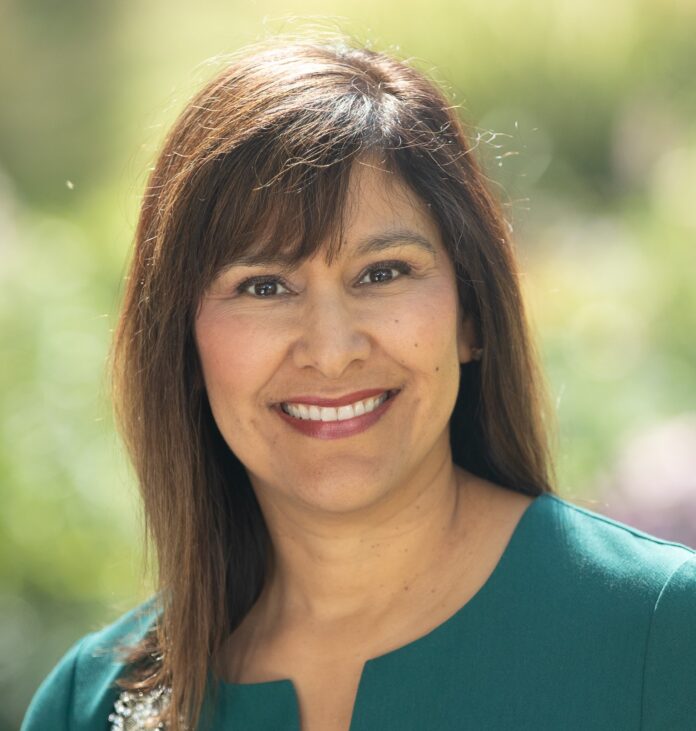 DARLENE COSSIO,
Non-Profit Marketing Executive
Candidate Alpine Union School District
WHY ARE YOU RUNNING FOR SCHOOL BOARD?
I am running for school board because I want to give back to our community and ensure our students receive a quality education that prepares them for a bright future. A strong, fundamental education without a political agenda.
WHAT ARE YOUR TOP THREE PRIORITIES IF ELECTED?
Make sure our students receive a quality education.
Secure and retain talented teachers.
Make sure our students have great after-school resources including after-school activities and transportation.
WITH STUDIES SHOWING STUDENTS ARE BEHIND DUE TO THE COVID-19 PANDEMIC, WHAT WOULD YOU DO ON THE POLICY LEVEL IN ENSURING STUDENTS BEHIND ARE ABLE TO CATCH UP?
Unfortunately, our students were one of the groups that suffered the most from the pandemic.  To help students catch up, I would apply for American Rescue Plan funds to secure resources for learning acceleration programs. These funds can be used for high-quality and effective tutoring, custom learning acceleration opportunities, and the use of out-of-school time to support students' academic needs.
ARE YOU A PROPONENT OF ARMED TEACHERS IN CLASSROOMS AS A WAY OF ADDRESSING SCHOOL SAFETY FOR STUDENTS, PARENTS, AND STAFF?
Thankfully, our school district has not experienced gun violence but as we have seen this can happen to any community, large or small. I would never want our community to experience what others have. Still, carrying a weapon is a big responsibility and I would have to listen to and collaborate with our teachers, administrators, parents, students, and law enforcement to find out what they want. After a thorough investigation, if they support a law enforcement staff member or armed teachers, I would too. My ultimate goal would be to have our students learn and our teachers teach in a safe school environment.
HOW CAN THE DISTRICT SUPPORT HOMELESS STUDENTS?
We have so many opportunities to help homeless students. Working with local officials to present the best options to these students would be a great place to start. We could connect homeless students to wrap-around services provided by local nonprofits and state-funded agencies. I also believe many in our community would be willing to provide shelter.
UNDER WHAT CIRCUMSTANCES IS IT APPROPRIATE TO BAN BOOKS FROM SCHOOL CLASSROOMS AND LIBRARIES?
As a mom, I believe parents should have a say in controversial content in the classroom. I believe transparency is key in this situation. Our teachers and school board members should have open discussions with parents and students when questionable books are considered for the classroom.
WHAT PAST BOARD EFFORTS WOULD YOU AMPLIFY OR GROW, AND ARE THERE ANY WHICH YOU WOULD PHASE OUT?
I think the after-school activities could be amplified to foster greater learning for our students. My sons loved the after-school sports program at Joan MacQueen Middle School with Coach Fazekas. I think the summer workshops and the STEM program could also be amplified with greater opportunities for scholarships earned to cover the cost of a few classes. I think the language program could be amplified to compete with nearby school districts and create greater student retention.
WHAT POLICIES OR PROCESSES WOULD YOU PROPOSE TO SUPPORT STUDENT LIFE SUCH AS ANTI-BULLYING TRAINING, EFFORTS TO REDUCE STUDENT VAPING AND DRUG USE, AND EXTRACURRICULAR EVENTS?
A strong campaign educating our students on the benefits of not vaping or using drugs starting at the Elementary School level is important. Much like the red ribbon week program at other elementary schools. This program talks about the negative effects of vaping and the consequences of drug use. At the middle school level, inviting guest speakers to talk about recovering from addiction and the benefits of not using drugs and why. It would be helpful to have these speakers be peers or relatable people who our students are open to learning from. My youngest child experienced bullying and once she was given the tools to speak up for herself and overcome the fear associated with bullying, she was able to stop the bullying. I think both the bully and the person being bullied need to be taught how to change their behavior.
I would like to see our school district create a community garden where students can come together and nurture and develop food for our community. It would also be beneficial to create an organics program where students can learn about the importance of recycling and creating compost for the garden from food waste.
A "See Something, Say Something" program would also be beneficial because it encourages students to speak up in a safe and confidential way.
EVEN WITH LIBERTY CHARTER MOVING IN WHICH WOULD GIVE SOME AUSD STUDENTS A CHANCE AT ATTENDING HIGH SCHOOL IN ALPINE, WHAT ARE YOUR THOUGHTS ON THE CONTINUING DESIRE FOR ALPINE TO HAVE ITS OWN HIGH SCHOOL AS PROMISED BY THE GROSSMONT UNION HIGH SCHOOL DISTRICT, AND HOW WOULD YOU APPROACH IT?
Liberty Charter has a strong reputation for providing an excellent education. I think our community is fortunate to have Liberty Charter in Alpine. Of course, since the passing of Proposition U and the purchase of the land on Alpine Boulevard, we all want to see the development of a high school complete with athletics for our students. We want our children to stay with their peers and not have to experience lengthy bus rides to get an education. We want a continuation of the Alpine elementary and middle school experience. If I were a member of the Alpine School Board, I would advocate for having our high school built on the property purchased. Communicating our needs to the Grossmont Union High School board should be a priority.
WHAT IS IT THAT MAKES THE ALPINE UNION SCHOOL DISTRICT SPECIAL TO YOU, AND WHY?
The Alpine Union School District is special to me because it represents the community and community members I care about. I also think the size of our school district makes it special. We have an opportunity to demonstrate to larger districts what a successful district looks like by putting the needs and success of our students first. I grew up in Pine Valley and graduated from a small school district, Mountain Empire Unified. While earning my undergraduate degree at UC San Diego, I was positively and negatively impacted by the education I received and understand first-hand the importance of a sound foundation to be successful at the next level.