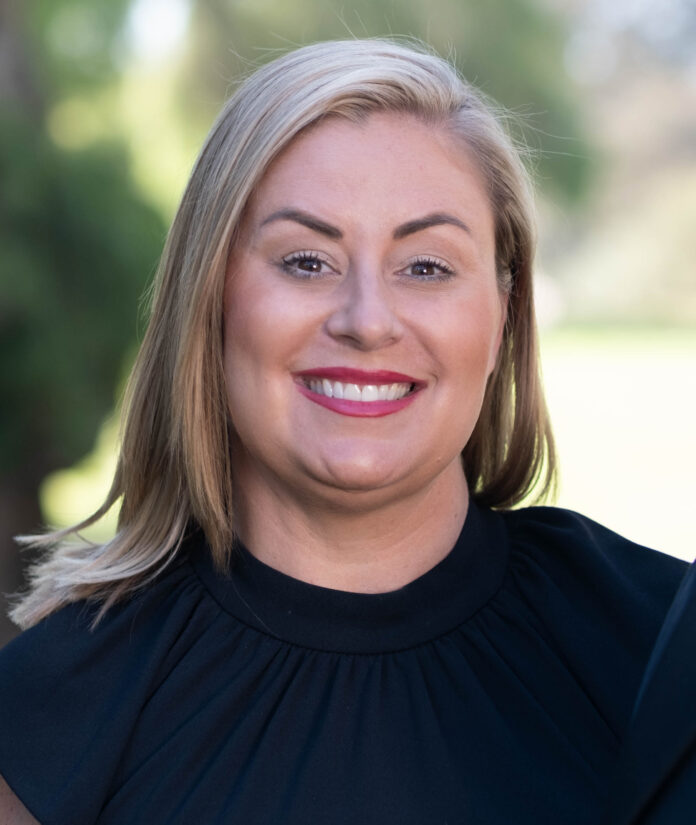 Erika Simmons, 42
Director, Assessment Services for San Diego Unified School District
Candidate Alpine Union School District
WHY ARE YOU RUNNING FOR SCHOOL BOARD?
My family has lived in Alpine for over a decade and I have dedicated my life to educating children my entire career. I've seen significant issues related to the ability of the district to improve education and promote the safety of students.
One issue I find particularly troubling that inspired me to run for the school board is the lack of transparency that the Alpine School Board has with the community. This is probably the most frequent comment that I have heard from parents in the community, even before I decided to run for the Alpine School Board. I attend all school board meetings, which are rarely attended by members of the community. Our school board does not provide the level of transparency with the community that other school boards in California provide and Alpine School Board members do not have a practice of engaging the community like many successful small community school boards.
I've reached out to a number of school board members in small to medium size school districts in California to understand their policies and practices. I have also reviewed the policies and practices of the more successful districts in San Diego. In doing this, I have found a significant difference in how the Alpine School Board operates versus how successful school districts operate. The enrollment of students in Alpine has continued to decline over the past five years.  When enrollment declines, financial resources for the district decline as well. There are also significant issues that need to be addressed to improve education for our children. I want people to look at Alpine and say they want to send their children to Alpine to get the best education. This is possible when we focus on fundamentals and best practices that have been proven to achieve success for students.
WHAT ARE YOUR TOP THREE PRIORITIES IF ELECTED?
Transparency and Communication
Transparency and communication with teachers, staff, and parents are among my top priorities. I am available now and always will be available to everyone that is interested in improving education in Alpine.  For the school board to create transparency with the community, many school boards live cast the school board meetings and make them available. The technology for live casting school board meetings is readily available and the cost is minimal.
Engaging the Community
Engaging parents and the community is a critical part of improving education. The feedback I have received from meeting with dozens of Alpine parents is that the school board does not listen to them.  There has been a growing disconnect between the school board and the community for over five years. To engage the community, my approach is to conduct regular discussions to hear feedback from everyone in Alpine, including parents, teachers, and staff.
Student Success and High-Performing Schools
A significant part of my job every day is to stay current with what makes the highest-performing school districts successful and how education can be improved. My priority is to bring this to Alpine. To achieve high-performing schools, I would prioritize setting policies that guide teachers to understand and assess each student's educational needs.  This process will also make it easier for teachers to be more effective and successful with every student.
WITH STUDIES SHOWING STUDENTS ARE BEHIND DUE TO THE COVID-19 PANDEMIC, WHAT WOULD YOU DO ON THE POLICY LEVEL IN ENSURING STUDENTS BEHIND ARE ABLE TO CATCH UP?
The COVID-19 pandemic clearly had an effect on many students and it is clear that there are gaps in learning. I can share from my experience that students are very resilient in general. Educational studies over the years have shown that student success and their ability to catch up is primarily based on schools' understanding students' individual needs and addressing these needs to enable students to excel in education. As an educator for the past 20 years, I can tell you that it is not difficult to understand the needs of every student and support them in a process of catching up or even excelling beyond their grade level. The school district needs to prioritize creating policies and practices that support teachers and their ability to understand individual student needs in order to meet the needs of every student effectively. Policies that support teachers in this aspect of education are crucial. This change needs to be a top priority. Research shows that when students are engaged and provided the necessary support, learning gaps or what might be seen as learning deficiencies close very quickly. What the district needs is to provide the teachers with the resources to close the gaps and to set expectations that each student's needs will be addressed. I have reviewed numerous schools in California and can say with certainty that this is a model that works.
ARE YOU A PROPONENT OF ARMED TEACHERS IN CLASSROOMS AS A WAY OF ADDRESSING SCHOOL SAFETY FOR STUDENTS, PARENTS, AND STAFF?
I have spent my entire career as a teacher, principal, and now as a leader in San Diego Unified School District where I work directly with teachers, principals, and superintendents. The safety of students is the most important aspect of schools, and nothing is more important than children feeling safe and being safe. Uvalde has taught us that in the face of an armed intruder, even the most highly armed, trained, and bulletproof shield-yielding law enforcement can be ineffective against a single armed threat. I do not know a single teacher that wants to carry a gun or believes that carrying a gun is a good idea. Many teachers fear that arming teachers creates a potentially catastrophic scenario. The more likely scenario that teachers fear is that a disgruntled student that knows a teacher has a gun overpowers or takes that gun and turns it on a teacher, student, or anyone in the school. This is a far more likely scenario that many teachers have expressed to me, which is their nightmare.
Teachers are trained to teach, help, and care for students, not apply deadly force. Teachers do not go to school to deal with deadly force situations. Teachers should never be put in a position where he or she needs to take a life as part of their job. If schools need protection, this should be left to trained law enforcement.
HOW CAN THE DISTRICT SUPPORT HOMELESS STUDENTS?
Homelessness is an important consideration relating to children in education. In my current position, I work with over 400 teachers, principals, and superintendents to deal with this exact issue. There is actually a federal law named the McKinney-Vento Law that requires all school districts to ensure that homeless students have access to the same free and equal education beginning in preschool. This includes creating any necessary programs that are needed to serve homeless students to achieve the same level of educational success as other students. The intention of this law is to educate disadvantaged children and end the cycle of homelessness, which benefits everyone. Alpine schools are required to do this as well. It is important to understand that the school district cannot take on the issue of homelessness in and of itself. What the Alpine School District can do is to ensure the district is intimately familiar with the circumstances of every student in its schools and addresses these issues specifically. Nothing is more important or effective in education than understanding the circumstances and needs of every single child. With this understanding, our schools in Alpine can ensure that we meet students' needs through nutrition programs and ensure that these students have everything they need to excel in their education.
UNDER WHAT CIRCUMSTANCES IS IT APPROPRIATE TO BAN BOOKS FROM SCHOOL CLASSROOMS AND LIBRARIES?
Banning books is a very political topic in the current environment. I am not political in any way. I care about children, their safety, and their education. Book selection should be aligned with the curriculum of the school and the school district. I have actually gone to our schools to look at books that are available to students. In this process, I did not see any books that are not aligned with the policies and curriculum of our schools. It is the responsibility of the school district to ensure that the books available to our students are aligned with the curriculum and teaching policies in the Alpine School District. Parents are the primary source that should determine what their children read outside of the curriculum that the district teaches. As a school district, we need to stick to the fundamental processes in education that create a successful learning environment that is aligned with our community.
WHAT PAST BOARD EFFORTS WOULD YOU AMPLIFY OR GROW, AND ARE THERE ANY WHICH YOU WOULD PHASE OUT?
My focus in education is always on improvement and how we can be better as a district. I always begin by looking at what we can do to be more effective as a school district to benefit our children. I am challenged by a number of Alpine School Board decisions related to how money is spent.  The district has spent thousands of dollars on consultants to support our superintendent and to perform work when the district has competent staff to perform these necessary tasks. There have also been hundreds of thousands of dollars spent on legal expenditures related to lawsuits or potential, pending legal action. The Alpine School Board has not provided any indication, even a high-level explanation of why our school district is spending hundreds of thousands of dollars on potential lawsuits.
I am incredibly mindful of financial decisions and how we spend our budget. As a school board, we have the ability to provide more funds that benefit children through district LCFF (Local Control Funding Formula) funds, which are discretionary funds that can be used by the district in virtually any capacity to benefit the schools and students. When the school district is more efficient with its use of LCFF funds, more money can be utilized on programs that directly benefit student education and not on administration or areas that do not impact students' success in education.
One recent school board decision that I would phase out is the recent unanimous vote that board members passed to pay themselves even when they do not attend school board meetings.  It is also disappointing that two of the five incumbent board members have missed as many as 25% of board meetings in a twelve-month period. The vote for board members to pay themselves when they do not attend school board meetings was a vote in self-interest and not a vote that benefits students in the Alpine School District.
WHAT POLICIES OR PROCESSES WOULD YOU PROPOSE TO SUPPORT STUDENT LIFE SUCH AS ANTI-BULLYING TRAINING, EFFORTS TO REDUCE STUDENT VAPING AND DRUG USE, AND EXTRACURRICULAR EVENTS?
The quality of students' well-being is incredibly important. As a school district, we need to focus on solving the problems that affect our children in and around schools. Bullying and student safety are among the biggest issues that the school board needs to address. The Alpine School District has general policies related to bullying that are not effective and not universally applied. Bullying has been a significant problem in Alpine schools for years. I have spoken with dozens of parents in the community and a significant number have removed their children from Joan MacQueen Middle School because of bullying, going back as far as 2016.
Our district does not employ nor has it implemented any effective anti-bullying practices that include appropriate consequences. There are "policies" related to bullying, but there appears to be no real consequences for bullying or harassing behavior for offending students. This is evident in recent feedback that I have received from Alpine parents. The school board and superintendent need to articulate clear standards and use consistent disciplinary practices to eliminate bullying. There should be a very clear zero-tolerance policy for bullying that is universally enforced.
As a former principal, I also find it challenging that our school board has hired a principal for Joan MacQueen Middle School that has no experience as a principal, especially given the bullying and decline in enrollment in our district. Our middle school needs insightful and experienced leadership at a time when students are leaving our school district because of bullying and discrimination.
Regarding vaping and drug use, as educators, we can set policies and educate children about vaping and drugs.  But when the school board and administration do not universally enforce disciplinary policies, we cannot be successful in creating a safe and drug-free environment. We need to have policies and practices that help our children deal with issues like vaping and drug use, and we need to enforce a clear zero-tolerance policy.
EVEN WITH LIBERTY CHARTER MOVING IN WHICH WOULD GIVE SOME AUSD STUDENTS A CHANCE AT ATTENDING HIGH SCHOOL IN ALPINE, WHAT ARE YOUR THOUGHTS ON THE CONTINUING DESIRE FOR ALPINE TO HAVE ITS OWN HIGH SCHOOL AS PROMISED BY THE GROSSMONT UNION HIGH SCHOOL DISTRICT, AND HOW WOULD YOU APPROACH IT?
It is important to be clear that Liberty Charter is not part of the Alpine Union School District. There are approximately 300 students attending Liberty Charter High School and there are less than two dozen students from Alpine. While some refer to Liberty Charter as an Alpine high school, this is a bit disingenuous. I believe in being completely transparent with the community and the details of everything related to education in Alpine. Liberty Charter is located in Alpine, but only temporarily. The Alpine School District board made the decision to become a landlord to Liberty Charter. The school is not governed by nor aligned with the Alpine School District. Liberty Charter is managed by a different school board with its own set of priorities and funding that is completely separate.
The Alpine School District board has chosen to rent the old Alpine Elementary School site to Liberty Charter.  In September 2020, the San Diego County Planning Commission unanimously approved Liberty Charter's permits to build its new 48,000 square-foot facility in Rancho San Diego on property it purchased in 2014 for $4 million dollars. With permits issued, the school will likely take 2 – 3 years to build. Liberty Charter High School is not the solution for a high school in Alpine.
Alpine needs a high school that is directed by our school board and guided by the Alpine community for the benefit of Alpine children. I have spent the last 6 months working on this issue exactly. This is a relatively complex topic that needs a significant amount of consideration, which I am dedicated to pursuing in my efforts to support education in Alpine.
WHAT IS IT THAT MAKES THE ALPINE UNION SCHOOL DISTRICT SPECIAL TO YOU, AND WHY?
By far, the staff and teachers in Alpine are what make a difference and make our schools truly special. My 10-year-old son that attends Boulder Oaks Elementary School has commented to me many times that his favorite part of the day is seeing one of the staff members that remembers his name and always greets him. He tells me that this makes him feel special. When kids are recognized, supported, and feel safe, they excel. Our teachers and staff are a big part of how our kids feel and their overall success.
I have spoken with numerous parents and many of them point to teachers in Alpine as the source of their child's success. I have heard many stories from parents about Alpine teachers that have inspired their children or built a connection that has changed their life. This is what I am constantly reminded of that makes Alpine schools special to me.