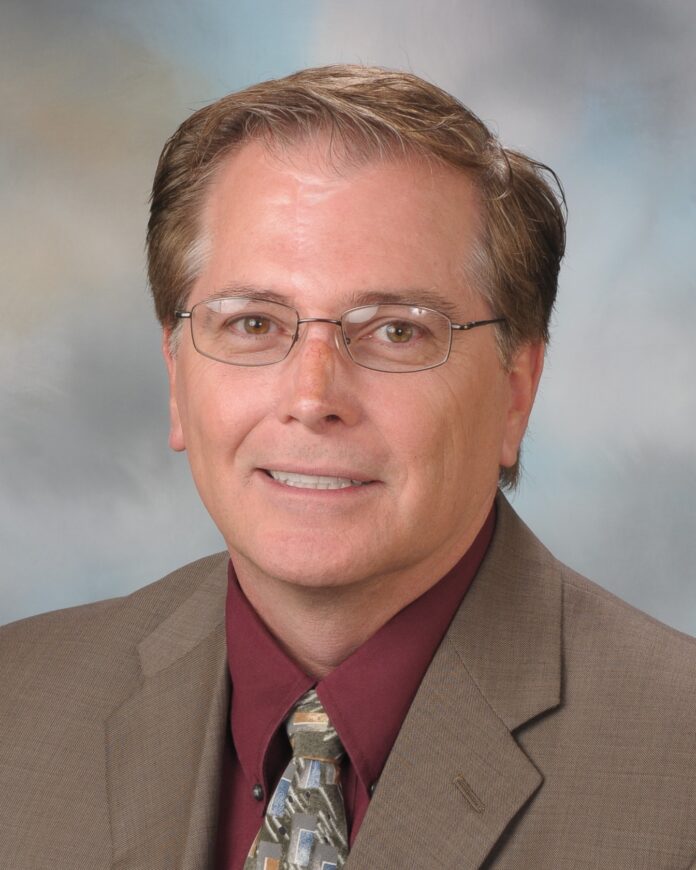 GLENN DICKIE
President Alpine Union School District Board
WHY ARE YOU RUNNING FOR SCHOOL BOARD?
I want to keep the momentum going.
We have accomplished so much, but still have so much more we can do, I want to keep this momentum going.
Major accomplishments:
Updated and new curriculums across all grades
Nationally recognized coding and engineering program
New sports fields
Outstanding relationship with our teachers
Best response to COVID

First to reopen for in-person learning
Led state in educational response
Led state in in-class instruction

Fiscal responsibility

No deficit spending under my leadership
No bond borrowing
Last was in 2000 for a new school
Opposed to long-term borrowing for short-term repairs
One-to -one on computers in every classroom
Partnering with Grossmont in win-win situations
Brought Liberty High School Charter to Alpine
20-year maintenance master plan – $32 million without issuing bonds
No deferred maintenance
WHAT ARE YOUR TOP THREE PRIORITIES IF ELECTED?
Continued Curriculum updates

Recent adoption of new math and english curriculums
New elementary Social Studies curriculum are currently being vetted

Safety

Partner with local law enforcement for all feasible safety options for our schools.
Continual updates to our safety plans based on expert recommendations. It is important to understand that for safety reasons, these plans are not always published.

Fiscal responsible and transparency

One of few districts with consistently balanced budgets
Developed transparent financial reporting to make finance easy to understand
WITH STUDIES SHOWING STUDENTS ARE BEHIND DUE TO THE COVID-19 PANDEMIC, WHAT WOULD YOU DO ON THE POLICY LEVEL IN ENSURING STUDENTS BEHIND ARE ABLE TO CATCH UP?
COVID had a major impact on all of our students.  The Board and I believed that opening schools for in-person learning was the right thing to do and that is why I championed our efforts to bring students back on campus for in-person learning. In fact, we were the first school district in San Diego to do so. I am proud to be part of the Board that puts our students and staff first. As a parent and Board member, I know how important teacher and student relationships are and that is why as President of the AUSD Board of Trustees I supported our District's focus this year to lower class sizes in all grade levels to ensure our teachers have more opportunities to interact with our students and support their learning. Additionally, to help our students accelerate their learning, our District implemented a new assessment system last year that will provide students and teachers with in-the-moment information about where students are succeeding and what areas need support.  We will be implementing a new tutoring program this year to provide additional support to our students.  Lastly, I am proud of our District's efforts in offering a range of expanded learning opportunities for our students. These opportunities have been very successful and provided additional opportunities for our students to learn.
ARE YOU A PROPONENT OF ARMED TEACHERS IN CLASSROOMS AS A WAY OF ADDRESSING SCHOOL SAFETY FOR STUDENTS, PARENTS, AND STAFF?
I am not a proponent of arming our teachers, and our teachers do not want this role or responsibility.  We work closely with law enforcement in Alpine and continue to explore all options for safety on our campuses.
HOW CAN THE DISTRICT SUPPORT HOMELESS STUDENTS?
Our students who are homeless are offered a range of options including free hot spots and are prioritized with tutoring and after-school care if needed.  Counseling and support services are also available on campus and families are provided free outpatient support services through at no charge.
UNDER WHAT CIRCUMSTANCES IS IT APPROPRIATE TO BAN BOOKS FROM SCHOOL CLASSROOMS AND LIBRARIES?
We are very conscious of representing our community and ensuring that our students also have the opportunity to grow and learn in a safe space.  Consequently, parents are always invited to review every curriculum that we adopt along with the resources in the program.  We have not banned books but our district staff also work hard to ensure that our parents are the first teachers and subject matter that may be controversial is left to parents at home.
WHAT PAST BOARD EFFORTS WOULD YOU AMPLIFY OR GROW, AND ARE THERE ANY WHICH YOU WOULD PHASE OUT?
I would amplify:

Children first
Lower class sizes
STEM
Updated Curriculum – this needs constant attention
Campus safety
Continue technology updates – a computer for each student
Fiscal responsibility
Phase out

We have worked cohesively as a Board with our Superintendent to ensure board efforts meet the needs of our students and community.
WHAT POLICIES OR PROCESSES WOULD YOU PROPOSE TO SUPPORT STUDENT LIFE SUCH AS ANTI-BULLYING TRAINING, EFFORTS TO REDUCE STUDENT VAPING AND DRUG USE, AND EXTRACURRICULAR EVENTS?
Over the last several years we have updated many of our Board policies to ensure that there is no tolerance for bullying.  In fact, all of our schools adopted the No Place For Hate curriculum, and lessons are taught across each school and grade level.  Through a range of school-wide, discussion-based, and active-learning activities, our students and staff examine real-world issues, reflect on biased behavior and learn new ways to challenge bias and bullying in themselves, others, and society.  Vaping is unfortunately all too common with our youth and our District has taken a proactive approach to counter this problem including educating our students and families on the dangers of vaping and working closely with our law enforcement to form bridges with our students. Our District has provided presentations and assemblies to students and parents from individuals such as the District Attorney to members of Teen Truth who connect with our students in different formats.
We are lucky that our District is able to offer a range of extracurricular programs to our students.  Our middle school students have a strong and vibrant after-school sports program that takes place throughout the year. Our engineering program, which has won many national awards, participates in contests and challenges after school and on the weekend. With the opening of the new JMMS Feld, our students will have a range of many new options to participate in extracurricular offerings.
EVEN WITH LIBERTY CHARTER MOVING IN WHICH WOULD GIVE SOME AUSD STUDENTS A CHANCE AT ATTENDING HIGH SCHOOL IN ALPINE, WHAT ARE YOUR THOUGHTS ON THE CONTINUING DESIRE FOR ALPINE TO HAVE ITS OWN HIGH SCHOOL AS PROMISED BY THE GROSSMONT UNION HIGH SCHOOL DISTRICT, AND HOW WOULD YOU APPROACH IT?
I would love for Grossmont Union to build us our promised high school, and expect discussions to continue formally and informally, as it is always a prospect as long as they own the land in Alpine.
Working with Liberty and Grossmont to bring the Liberty High School to Alpine is one of the Board highlights for 2022.  It demonstrates how the board continues to explore all educational opportunities for our community.
WHAT IS IT THAT MAKES THE ALPINE UNION SCHOOL DISTRICT SPECIAL TO YOU, AND WHY?
Alpine Union School District is special because we, as a community, built it. The collaboration between the current board and Superintendent is unparalleled and successful on all levels.
Our district provides exceptional diverse educational opportunities, including a Kindergarten only school, a very successful Spanish Immersion school with teachers contracted from Spain through a program initiated by our Superintendent, and a nationally recognized robotics program. Our kids are truly a priority in everything from class size, to free nutritional lunches cooked on-site, to updated curriculum and technology access.  Our successes continue to draw students and teachers to our district for the best educational experience.
My son attended AUSD from kindergarten through graduating middle school and I look forward to the day my grandchildren attend the schools and educational programs we have built.