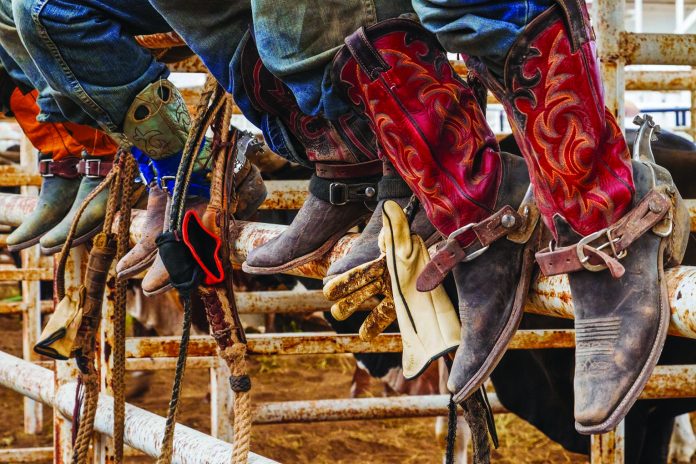 George Taylor chose to take the title of chief execu­tive officer rather than commissioner of the Profes­sional Rodeo Cowboys Association, and his annual press conference reflected a theme of growth for the PRCA.
"It is incredible what this sport does, but it is about our vision," Taylor said.
Taylor's press conference December 10 at the Thomas and Mack Center in Las Vegas stressed unity within the rodeo community, both among rodeos of various prestige and payout and between the professional level and the youth levels. "Our mission is about unification in a world that's not very unified," he said. "We're about bringing people together."
The PRCA is relying on that unity for growth. "Being unified gets amazing things done," Taylor said. "We will only be as strong as we are united and we will be as weak as we are divided."
Growth in PRCA membership will likely require new sources. "With the urbanization of the world there are fewer kids growing up on ranches and farms," Taylor said.
In recent years PRCA membership had declined at an annual rate of approximately 1.5 percent. "Last year we set a goal to not shrink," Taylor said.
"We were flat year to year. We had good permit growth last year," Taylor said. "This year we hope to grow 2 to 3 percent."
Added money from sponsors complements entry fees for the payout to cowboys, and in 2019 PRCA rodeos combined for payouts of nearly $60 million, which is up approximately 10 percent.
"I think we're positioned well for next year," Taylor said. "It will be a record financial year for us."
The PRCA had been in a partnership with CBS Sports. "We bought time with them and paid for pro­duction," Taylor said.
Under the PRCA's 2019 deal with Rural Media Group, which owns The Cowboy Channel and RFD-TV, the PRCA is paid for the broadcast rights and does not pay for production. "It was a huge win for this organization, and it's going to be a huge win for our cowboys and our committees," Taylor said.
The Cowboy Channel and RFD-TV will broadcast the major rodeos. The Wrangler Network and the PRCA's own digital media department will provide telecasts of other rodeos.
"I think we've just scratched the surface with the network deal," Taylor said.
Streaming media will be incorporated into the PR­CA's broadcast pyramid as technology allows. "It's a changing dynamic," Taylor said. "5G is going to drasti­cally impact the ability to have streamed media."
The television pyramid will also include youth rodeos. The PRCA initiated its Junior Rodeo program which will include a Junior National Finals Rodeo. "Over time our PRCA rodeos are going to run junior rodeos," Taylor said.
The Junior Rodeo program will not be at the expense of current youth rodeo associations, including those with "Junior Rodeo" in their name, but will work with those organizations. "We have to as a community build the best junior rodeo there is and make this sport live and breathe," Taylor said.
Approximately 80 percent of rodeo committees in­dicated a desire to be involved with the Junior Rodeo initiative, and PRCA personnel have also expressed support. "We have professional cowboys who want to be involved," Taylor said. "We have awesome guys who want to be involved with awesome committees and awe­some stock contractors."
The PRCA also worked with the Women's Profes­sional Rodeo Association on adding Breakaway Roping to Barrel Racing as WPRA events which will be held during PRCA rodeos. "It's just a growth opportunity for all of us," Taylor said. "I think it's a really exciting thing."
Breakaway Roping will not be at the expense of Bar­rel Racing since entry fees will account for much of the payout. "Rodeo has equal pay for women as they do men. It is the only professional sport that I'm aware of that men and women compete on the same field for the same money," Taylor said.
The Miss Rodeo America program is separate from the PRCA although the local rodeo queen pageants are affiliated with the local rodeo committees. "We col­laborate, I think, really well with Miss Rodeo America. They're an important part in what we do," Taylor said.
The objective for the television coverage is to provide the viewers with familiarity about the competitors. "We have to think about humans, not highlights," Tay­lor said. "If we want to broaden the appeal of rodeo we've got to tell the amazing stories."
Some of those stories will involve the athletes' rodeo history while others will involve other aspects of their way of life. "The stories are huge," Taylor said. "I think it's as important as reporting the 90-point ride."