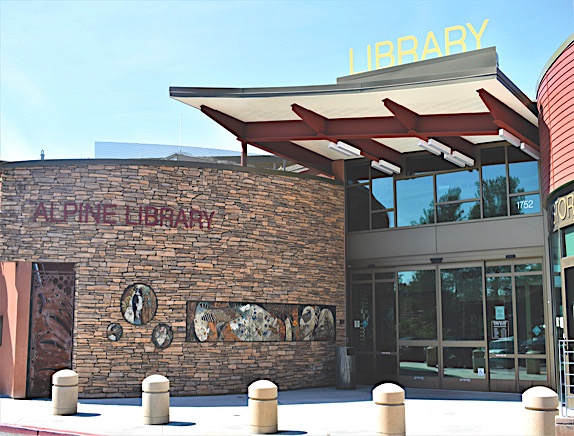 The San Diego County Library system has switched back to walk-up, doorside services at all their locations including the Al­pine branch library.
San Diego County Library Mar­keting Manager G. Guido Oliva said all county libraries will be limited to the door-side service model and online resources until the governor's stay-at-home order is lifted.
Doorside service will be provid­ed Monday through Friday from 10 a.m. to 4 p.m.
Library patrons can request hard copies of books, movies and music through the online system at: www.sdcl.org or by calling in a request to library branches; noti­fication will be sent out when the requested items are available for pickup.
The due date for all San Diego County owned library materials has been extended to Feb. 3, 2021 but items can be returned before then at any time during open hours.
The digital li­brary is also avail­able at: www.sdcl.org/elibrary with round-the-clock access to ebooks, audiobooks, and digital magazines that patrons can download without having to leave the house.
Online visi­tors will also find learning applica­tions including Lynda.com, Man­go Languages and the MyHeritage genealogy site on tap in the digital library as well as dozens of external learning sites that can be accessed through the li­brary website.
Wi-Fi service is available at the perimeter of the library, includ­ing the front parking areas.
"Community members can bring their devices and connect, free of charge, to the internet to accomplish whatever tasks they need to, including school access," Oliva said.
He also said it is "worth men­tioning that it is available all year long, even after library buildings are closed, for everyone to access information, read, or access the library website for more services".
The Alpine branch library is located at 1752 Alpine Blvd.