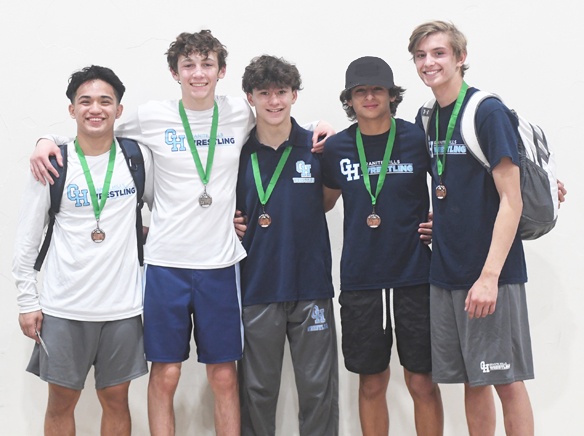 It's the biggest annual high school boys wrestling event in San Diego County and last weekend's (Feb. 18-19) San Diego Section Masters state-qualifying tournament at Christian High School in El Cajon once again delivered its share of ecstasy and heartbreak.
The ecstasy was measured in the six East County mat men who qualified to compete in this weekend's state championship tournament in Bakersfield. The heartbreak was felt by all those who didn't qualify, which for some, was a once-in-a-lifetime opportunity.
Each weight class at Masters consisted of 24 wrestlers but only the top four place-winners punched their ticket to the state meet.
East County's 2022 state qualifiers are led by a trio of Granite Hills sophomores: Devon Wells (fourth, 128 pounds), Jayson Suetos (fourth, 140 pounds) and Collin Guffey (second, 134 pounds).
It's the most wrestlers the Eagles have sent to state since qualifying five in 1987.
"It's awesome," Granite Hills head coach Jesse Sheard said. "The kids are the ones who earn it. They put in all the work in practices. They bust their butts each day."
Also headed to Bakersfield are West Hills junior Ryder Dearborn (fourth, 162 pounds), Mountain Empire senior Larry Clark (fourth, 197 pounds) and Mount Miguel junior Seamus Boyle (fourth, 287pounds). All six East County grapplers are first-time state qualifiers.
"It's going to be awesome at state," said Clark, this year's Division IV individual champion. "It's been my goal for four years. I work out four hours a day – two hours of weightlifting and two hours of cardio, and an hour after practice. It's been a lot of hard work."
Eagles nest
Guffey (38-6) has the highest profile among the group. He entered last weekend's Masters ranked fifth in the state and 17th in the nation in his weight class.
He qualified for Masters as the Division II individual champion after defeating Poway's Brock Bobzien, 5-4, the previous Saturday. "It was cool," Guffey said. "I was thankful for the opportunity."
Guffey (two pins, 16-0 technical fall) and Bobzien (three pins, including two sub-minute falls) both won their opening three matches to meet again in the Masters championship round. Last weekend's rematch didn't exactly go as planned. Bobzien (26-4) won 10-4 in a match he generally controlledfrom start to finish.
"It's always tough to beat the same guy twice," Sheard said.
A fierce competitor, Guffey was visibly disappointed by the loss in the Masters final. But the upcoming state meet offers a chance at redemption.
"My goal is still to win state, so rankings really don't mean much to me," he said flatly.
"He works as hard as anyone," Sheard said of Guffey. "He's a competitor. He doesn't sit on his laurels. He makes sure he's on the top of his game."
He'll have to be at state.
Wells, who, in a spontaneous moment, led the Pledge of Allegiance to open the finals ceremony, won his opening two matches to advance to the semifinals. A 7-1 loss to Holtville's Donovan Johnston dropped Wells to the consolation semifinals. The Granite Hills wrestler won that high-stakes match 7-1 over Brawley's Mason Navarro to earn his state-qualifying berth.
Wells (30-13) lost by a 3:57 pin to Rancho Bernardo's Brayden Concepcion in the third-place match.
Sheard said Wells has "the mentality that he's never going to give up." "Hard work pays off, I'm glad to be here," Wells said.
Suetos (20-8) might be the surprise grappler among the Eagles' convocation of state qualifiers. He won his first match by a 17-2 technical fall but lost a 4-0 decision to Eastlake's Tomas Jacobo in the next round.
Suetos, a runner-up like Wells at the preceding Division II finals, had to win three single elimination matches in the wrestle-backs to pave his way to the state meet. He pinned Brawley's Joey Navarro in 4:55 in the consolation semifinals (after trailing 10-4) to become a state qualifier but lost by an identical 4-0 score to Jacobo in a rematch in the third-place match.
"I didn't have as much time on the mat (as a transfer), but I knew what I had to do," Suetos said.
MOUNTAIN MAN
Clark (35-5) scored pins of 5:09 and 3:04 to advance to the semifinals against top-seeded Braden Pease of Poway. Pease (21-6) won by a 15-0 technical fall to drop the Red Hawk to the consolation semifinals. Clark pulled out a huge win by a 3:35 pin over Eastlake's Alex Martinez to qualify for the state meet.
The victory advanced Clark, a two-time CIF divisional champion, to the third-place match against St. Augustine's Kyle Clements, who won by a 2:27 pin.
The loss in the medal round wasn't necessarily a let-down. "I'm so happy to reach this," Clark said. "I'm so appreciative of everybody who helped me along the way."
Clark is the first state qualifier from Mountain Empire since Robin Peak won the 189-pound title at Masters in 2007.
AWARD STAND
Top six place-finishers in each weight class received medals. The Eagles had a total of five medalists at this year's Masters tournament en route to posting a meteoric fourth-place team finish.
Ryan Carroll (24-16) finished fifth at 122 pounds while Zach Waterhouse (28-14) was sixth at 147 pounds.
Carroll won by medical forfeit over Del Norte's Badr Hage Hassan while Waterhouse lost in the ultimate tiebreaker to Canyon Crest Academy's Jonathan Saenz to earn their Masters medals.
Both Eagles barely lost out on a trip to state after dropping identical 4-3 decisions in the consolation semifinals.
With 14 state qualifiers and 12 Masters champions, Division II team champion Poway topped the scoring chart with 416 points, followed by Division I team champion Rancho Bernardo with 255.5 points in second place and Division II champion Brawley in third place with 160.5 points.